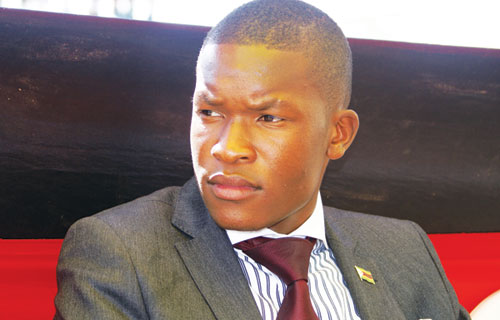 BULAWAYO Metropolitan Province resident minister and governor ambassador Cain Mathema yesterday officially opened the 11th edition of the Zimbabwe National Youth Games in a colourful ceremony held at White City Stadium.
Sukoluhle Mthethwa/ Fortune Mbele
Mathema read a speech on behalf of the Education, Sport, Arts and Culture minister David Coltart, who said he could not attend the ceremony due to other commitments as he was only notified that he would be the guest of honour, late.
"It is my pleasure to officiate at the 11th edition of the Youth Games which were coincidentally incepted in this province some 11 years ago. "When the Games were started in 2003, part of the objectives were to increase young people's accessibility to sport and recreation and to also use the Games as a platform by which young talented athletes could be identified by the National Sport Associations and nurtured further.
"As the government we are happy to note that we have managed to host these Games on an annual basis. To add to this, all the 10 provinces have been afforded an opportunity to host the games on a rotational basis thus contributing to the attainment of balanced development of sport in the country," he said.
He said sport was important because it can be an effective tool for community development and can contribute to social equality notwithstanding colour, race, creed, religion or economic status.
The governor also said the games were important as they had produced some of the country's top athletes. "I am informed that the Zimbabwe National Youth Games are beginning to pay dividends in the form of athletes who have been identified and nurtured through them. It was pleasing to note that one of the athletes identified through these games recently competed in the athletics World Championships in Russia — Gabriel Mvumvure," he said.
He added that the games were also used as a platform to identify athletes like Ngonidzashe Makusha who won bronze at the athletics World Championships in 2011 in South Korea, Angela Makaha who is on an athletics scholarship in the United and Vitalis Chikoko who is now playing professional basketball in Germany.
Speaking during the ceremony principal director in the Education, Sport, Arts and Culture ministry, Paul Damasane, highlighted the crucial role the games play.
"The government takes the Youth Games very seriously because they are a platform for sport development. Today (yesterday) is special to the Ministry of Education, Sport, Arts and Culture because next year we will be in Bulawayo for the regional Under-20 Zone VI Games.
"This is going to be a dress rehearsal for us to see how well Bulawayo will prepare for the games," he said. The ceremony was attended by athletes from the country's 10 provinces as well as different stakeholders who included Sport and Recreation Commission board chairman Joseph James, Bulawayo Local Organising Committee members led by Raj Modi, Zimbabwe Olympic Commitee (ZOC) chief executive officer Anna Mguni and president Admire Masenda, Child President Ntando Moyo as well as representatives of various sport codes. Mathema lit the games lamp towards the end of the ceremony to officially declare the start of the Games.
Entertainment was provided by Black Umfolosi who perfomed their famous song Unity, Iyasa, Thandanani Women's Ensemble, Harsh Touch and Zimbabwe National Army band. Drum majorettes also put up a splendid display while there was also a display of wushu.