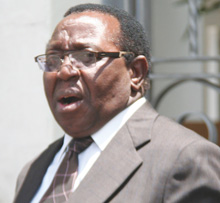 ZANU PF national chairman Simon Khaya Moyo says food stuffs and party regalia donated by President Robert Mugabe and distributed to the electorate in the run-up to last month's harmonised polls were a major trump card as it resulted in people voting for the party.
Albert Ncube
Zanu PF won all the constituencies of the drought-prone Matabeleland South province. Moyo said this in a meeting with newly-elected Zanu PF House of Assembly members and councillors in Gwanda on Saturday.
"The President is happy with this province and said I must thank you for a job well done," he said.
"In return we are grateful for the regalia and foodstuffs that the First Family donated to people. It worked magic as many corners of the country got it."
Mugabe dished food stuffs in the form of mealie-meal, beans, cooking oil and salt to thousands of people before the polls, a move widely criticised by the Morgan Tsvangirai-led MDC formation as a vote-buying gimmick.
Local authorities were also ordered to write off outstanding water bills by Ignatius Chombo, the Local government minister as the party moved to lure support. Khaya Moyo implored the newly elected MPs to work closely with the people so as to wipe out the MDC in the 2018 elections.
He said the legislators will now be expected to submit quarterly reports so as to monitor the party's progress.
"Elected MPs will now submit quarterly reports from their various constituences so that progress is measured," Khaya Moyo added.
Since many believe the region of Matabeleland is marginalised, he said the province would soon see massive infrastructural development.