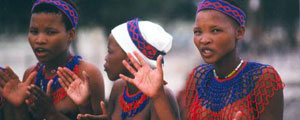 THE San people in Zimbabwe will on Saturday hold a cultural festival at the Garia Dam in Tsholotsho, an event likely to draw participants from across the country.
SILAS NKALA
The event comes almost a week after the International Day of the World's Indigenous People, celebrated on August 9.
Creative Arts and Educational Development Association — an organisation that fights for the recognition of marginalised groups — director Davy Ndlovu yesterday said the Tshwao Dam Bush Cultural Festival would be held at Garia Dam in Tsholotsho along Mgodimasili-Butabubili Road.
"On August 17, we will be hosting a Tshwao Dam Bush Cultural Festival with the aim of bringing together all the San-Tshwao elders in Zimbabwe from around Tsholotsho and Plumtree, under the theme 'The Reunification and Revitalisation of the San culture and language: My Constitution, My Hope'," he said.
The guest speaker at the function will be the late Vice-President John Nkomo's son, Jabulani.
Ndlovu said the San were celebrating the constitutional recognition of the Tshwao language.
"We also want to explore what good this Constitution is going to bring to the Tshwao people," Ndlovu said.
"We want to explore all the avenues pertaining to the development of the San and at the same time we need to understand the Constitution a little bit more in terms of language, culture, indigenisation, economic development, education and more."
The United Nations' (UN) International Day of the World's Indigenous People is observed on August 9 each year to promote and protect the rights of the world's indigenous peoples and the bush festival was meant to buttress that support.
"Tshwao language revival programme, Tshwao cultural heritage preservation through establishment of community museum, universal access to primary education, primary healthcare facilities, access to decent shelter, clean water, sanitation and representation of the San people in government institutions and traditional leadership such as chiefs and headmen will be looked into," Ndlovu said.
He said entertainment available at the function will be traditional song and dance.
Oral storytelling of the San's history and traditional foods will be served. San people have in the past complained of marginalisation and they have engaged the government for their recognition in the distribution of resources.  Twitter feedback @silasnkala