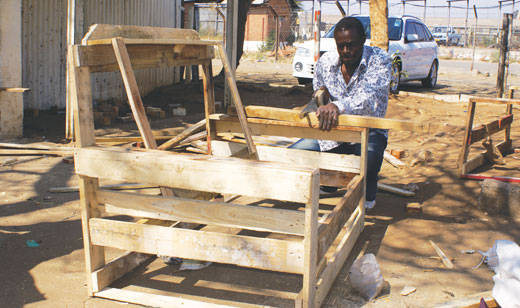 BULAWAYO'S informal sector is singing the blues, as business continues to be depressed, largely due to cut-throat competition and a cash squeeze in the second largest city.
Own Correspondent
In interviews carried out by Southern Eye Business yesterday informal traders selling clothing and other wares at flea markets said competition was now stiff and this translated to very low returns.
The majority bemoaned high rentals charged by the Bulawayo City Council, against declining profits, which they said would eventually push them out of business.
"The city council charges us $23 per 1,5m² space every day and this too much, as we are getting close to nothing from this business," Ndabaningi Sithole, an informal trader, selling clothing close to Revenue Hall, said.
"We are forced to continue in this business because we do not have an alternative." Sithole said stock now piledfor months without being sold, compared to the period when he set up the business in 2010, where his wares were sold out within a week.
Violet Ncube, another informal trader, attributed the stiff competition in their line of business to high levels of unemployment in the country. "The majority are unemployed in Zimbabwe and informal trading is the only way to survive, that is why we are so many in this business," she said. The unemployment rate in Zimbabwe hovers at above 80% and is expected to continue sky-rocketing with a number of companies retrenching and some closing shop.
In Bulawayo 84 companies closed shop last year and 64 are reported to be in dire financial straits and on the verge of collapse. But questions abound whether President Robert Mugabe, whose Zanu PF romped to victory in the just-ended elections, will be able to create employment for the multitudes of citizens ekeing out a living on the streets, as he pledged during the campaign period.
Zanu PF has dangled promises of creating more than 2,2 million jobs across the 14 sectors of the economy, as a direct result of unlocking resources from indigenisation and empowerment assets although critics doubt if this is achievable.
Due to high levels of unemployment in the country, an estimated 3,7 million people are involved in informal sector activities. According to Zimbabwe Statistical Agency, the informal sector, in some quarters, is one of the key drivers of the economy.
The sector contributes an estimated 19,5% of Zimbabwe's gross domestic product or a total value of $1,73 billion. Twitter feedback @mudarikirig