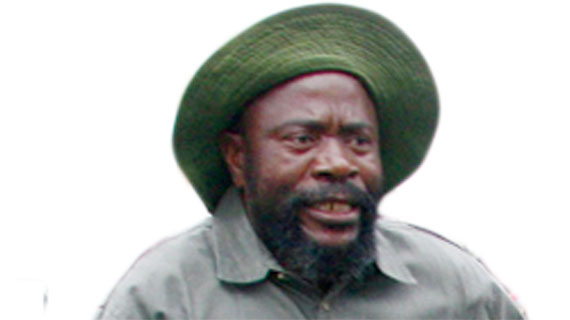 PROBABLY the most caricatured politician of his time and always at the end of some of the crudest jokes, Joseph Chinotimba is literally having the last laugh, as he prepares to be sworn in as a Member of Parliament for Buhera South.
Tatenda Chitagu/Obey Manayiti/Nqobani Ndlovu
What makes Chinotimba's victory ever more astounding is that he won a seat in Prime Minister Morgan Tsvangirai's home ground, where many would naturally have expected the MDC-T to win.
A relatively unknown Chinotimba sauntered to the world stage 13 years ago, touting himself as the commander in chief of farm invasions. Soon he was to become the butt of all jokes, as people made fun of him and mocked what they described as his modest command of the English language.
But Chinotimba dared to dream. After having lost previous elections in Harare, he sought the comfort of Buhera South where he prevailed.
"I was already an MP," he said yesterday.
"We have two types of MPs, one is an MP who goes to Parliament and one who is wanted by the people and is always solving their problems.
"I was with the people solving their problems and I was their MP." In 2011, the war veterans' leader said he could be a legislator and better still he said he could be the Minister of Education.
Asked how he managed to win this time, Chinotimba quipped: "Ask the people, they are the ones who voted. Chinotimba, who said he was in his 60s, said Zanu PF won "because it is a party of action" while the MDC-T had anti-people priorities, which he described as misplaced.
"They do not know what they are doing," he said. "They have got their agenda, regime change agenda. I fought for the people and Zanu PF fought for the people. "If we did not deserve to win, why did we go to war? Such kinds of people (MDC-T) are not wanted in Zimbabwe.
"They should go to South Africa where there is noise. They are not fit to be Zimbabweans. They can fit in other countries and not Zimbabwe."
Now questions are being asked on what kind of legislator the former security guard would be. Chinotimba said he will push for the enactment of laws that empower black Zimbabweans, adding that he felt sorry for journalists who did not benefit from the land reform programme.
"I am a man of actions, I am a farmer," he said.
"I am sorry for people that did not get farms. I am sorry for you. Please go to the nearest governor and be given a farm, owning a farm is a legacy."
In 2008 Chinotimba lost the Buhera South seat to MDC-T's Naison Nemadziwa, but on the second time of trying, he prevailed. But Nemadziwa believes he was cheated.
"A lot of people were assisted to vote and that was the number one rigging machinery used. Even teachers in this area claimed they could not write because they were the targets. Chinotimba lost, since 2008, this man has been violent here and from that time he has never been popular," he said.
Nemadziwa said people were shocked at Chinotimba's victory.
"There is no happiness here, no one is celebrating," he said. "In fact people are still in a state of shock because on a fair platform I was going to win that seat, I don't accept that result."
But Chinotimba refuted the allegations.
"That is what everyone who are defeated say," he said triumphantly. There is nothing like that. "People realised they were making a big mistake by voting for Tsvangirai." Just more than a decade ago, Chinotimba was employed as a municipal police officer in Harare, before taking the centre stage during farm invasions and since then his star was on the rise.
Soon he formed his own security company and critics said he was being funded by Zanu PF for his role in the farm invasions.
Soon he pioneered the Zimbabwe Federation of Trade Unions (ZFTU), to counter the Zimbabwe Congress of Trade Unions (ZCTU), which he felt was too close to the then opposition MDC.
The federation failed to gain much traction, but Chinotimba soldiered on. From there Chinoz, as he is popularly referred to, soon rose to the leadership of the war veterans structures, where together with Jabulani Sibanda they spearheaded the "Million Man March" of 2007 to garner support for President Robert Mugabe ahead of the following year's elections. However, factionalism took its toll in the war veterans' structures and Chinotimba seemed to take a backseat, only to emerge as a MP.