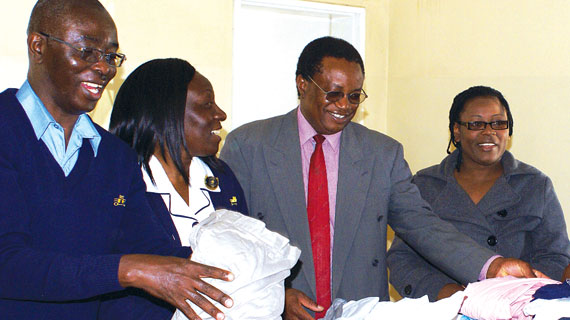 SOUTHERN EYE and its partners in the 7km charity walk held last month, yesterday donated cash and clothing to Entembeni Old Peoples' Home and Ekuphumuleni Geatriatic Nursing Home, as part of their social responsibility.
Pamela Mhlanga
Southern Eye, part of Alpha Media Holdings (AMH) was partnered by security firm Fawcett Security, clothing retail giant Edgars Stores Limited, Providence Sound&Films, Emras, Bootlebay Marketing and Hillside Dams.
They donated $266 and boxes of clothing to the two institutions at separate functions. Entembeni Old Peoples' Home matron Cathrine Chiponda said the donation came as a relief for the home which mainly survived on donations from well-wishers.
"The donation is a relief to us considering that it comes at a time when the home is facing shortages of basic commodities," Chiponda said. "Most days we do not know where the next meal will come from and it is always a huge challenge."
Ekuphumuleni representative Sibusisiwe Khumalo said the donation was a very touching move for the home which heavily relies on society for financial and material support. "We are truly grateful for this great donation," Khumalo said. "Words alone cannot express how grateful we are."
AMH Bulawayo branch manager Peter Dube said the donation was part of the company's corporate social responsibility conducted on an annual basis.