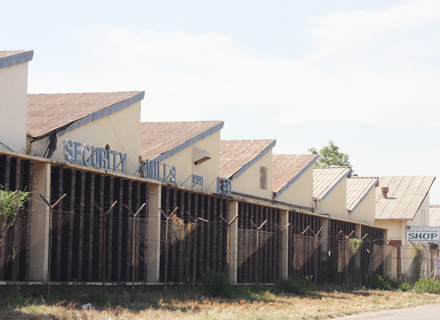 THE Confederation of Zimbabwe Industry (CZI) says the manufacturing sector will this year plunge to its worst performance since dollarisation as foreign direct investment (FDI) continues to slow down largely due to policy misalignments and an election outcome deemed flawed by some members of the international  community.
Gamma Mudarikiri Own Correspondent
In an interview yesterday, CZI president Charles Msipa told Southern Eye Business  that industry  was almost  on  its  knees hamstrung by low capitalisation  against high  operation  costs  coupled  with  constraints in working  capital.
Msipa said the sector was at the deep end as it was failing to attract investment largely due to policy inconsistencies.
"There will be no magic turnaround of the manufacturing sector to positive growth", Msipa said.  "Industry will continue to slow down in the second half of the year and capacity utilisation will be   far below the 44% achieved last year," he said.
The manufacturing sector continues to face a myriad of challenges chief among them being the liquidity crunch leading to high borrowing costs, lack of competitiveness due to antiquated machinery, high utility charges and inflexible labour laws resulting in high employment costs against low productivity.
Bulawayo in particular, is the hardest hit with 64 companies reportedly on the verge of collapse while 84 companies closed shop last year.
Msipa said CZI had submitted an array of measures to the government in an attempt to help revive the battling industry.
Part of the measures include incentivising the sector through exemption from payment of duty in the importation of raw materials.
"The 15% duty on  the importation of raw materials must  be  scrapped off  and  this  will help the  industry  to  regain  its standing, " Msipa said.
He said  among  other  things,  the country's indigenisation  laws  must be in  harmony with  the  need to attract foreign direct investment critical to revive  the dampening  economy  in the  country.
Latest statistics from the Zimbabwe Investment Authority (ZIA) showed that investment projects worth $184 million were approved in the half-year ending June 30 2013 compared to $247 million realised in the same period last year, as investors continued to be averse due to the country's policy inconsistency and uncertainty.
According to ZIA, 80 projects were approved, creating employment for 4 118 people in the period under review as compared to 89 projects in the previous year.
The manufacturing sector received investments worth $90 million for 32 projects, followed by mining with $81,4 million for 34 projects and the services sector got $9,3 million for 12 projects.
Most of the approved projects have not been implemented as investors adopt a wait-and-see attitude due to the perceived risks associated with the elections as well as the indigenisation and economic empowerment regulations.
Twitter Feedback @mudarikirig