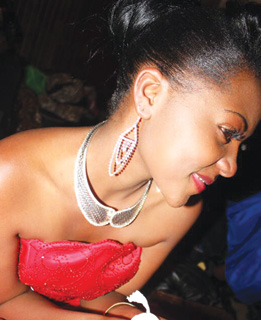 HWANGE beauty queen 20-yearold Fikile Ncube has been crowned Miss Winter.
Own Correspondent
Fikile landed the crown  at a colourful pageant held at the Hwange Colliery Tennis Club on Saturday night. She beat 12 other aspirants on a chilly night, pocketing $500 in the process.
Sindiso Utete (21) got the second prize while Primrose Lunga (19) came third.
Ncube told Southern Eye Lifestyle yesterday that she was delighted she  had won the competition, adding that she had invested a lot of effort before going into the contest.
"I am happy that the adjudicators so it fit to bestow me the honour. I am thrilled that my efforts have finally paid off for me," she said. Ncube is now looking forward to taking part in other pageants.
"I hope this has opened an avenue for me to take my modelling skills to other places. I'm looking forward to further nurture my career." The Miss Winter pageant was organised by Players Inc and drew models from Dete, Hwange and Victoria Falls.
Dj Ramsey, Esay T and Dj Stallion entertained revellers who danced the night away till the wee hours of Sunday.