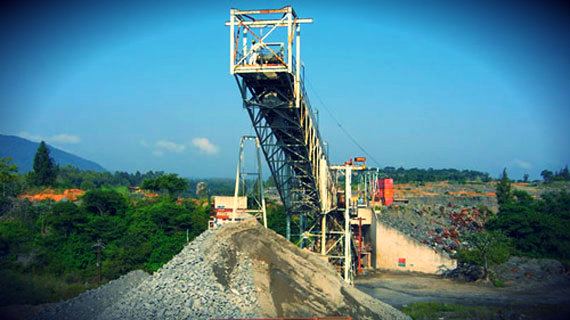 ZIMBABWE'S mining sector is projected to plunge by about 12% from the initial growth target of 17, 1% due to weakening international mineral prices and policy misalignment.
Gamma Mudarikiri Own Correspondent
The sector is now projected to grow by 5,3% instead the initial target of 17,1% despite the mining industry this year tipped to be one of the key drivers of the country's economic recovery.
According to the  Mid-Term Policy Review statement, constraints such as falling international mineral prices, rising mineral production costs and perennial challenges related to lack of long-term financing, had a profound effect on gold and diamond mining houses resulting in the slowdown in terms  of  growth  of  the mining  sector.
Gold output projection has been revised downwards from the initial figure of 17 000kg to15 000kg as gold mining companies continue to face a multifaceted challenges.
Metallon Gold, the largest gold mining house in Zimbabwe, recently rationalised its operations by switching from shaft mining, which is relatively costly,to predominantly open-cast operations expected to reduce gold output.
In the same period under review diamond production slipped 11,4% to 2,8 million carats compared to 3,1 million carats produced during the same period in 2012.
The decline was attributed to diamond producers shifting from alluvial mining to shaft mining operations, which are relatively costly operations. As such diamond output target for this year has been revised downwards from 16,5 million carats to 12,5 million carats.
However, platinum production improved to 5 366,2kg compared to 4 709,1kg produced during the same period last year.
The improvement was buoyed by the need to boost output volumes in support of the required levels to sustain the proposed platinum refinery plant aimed at promoting value addition.
Notwithstanding the fall in international prices during the period, platinum production is expected to remain in line with the initial 2013 projection of 12 500kg.
A  total of 119 618 tonnes of chrome were produced in the same period with the expectation that a target of 282 000 tonnes of the metal will be achieved  this year, provided that the government lifts the ban on chrome ore exports and that viability of local chrome smelters improves.
Coal production stood at 1 011 813 tonnes during the same period representing 40% of this year annual target of 2,5 million tonnes.
Twitter feedback @mudarikirig