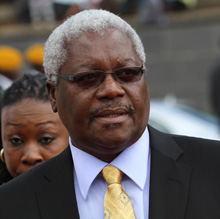 WATER Resources Development and Management minister Samuel Sipepa Nkomo yesterday dismissed as "suicidal politicking" moves by his Local Government Rural and Urban Development counterpart Ignatius Chombo to scrap debt owed to local authorities.
Nduduzo Tshuma/Pamela MHLANGA
Sipepa Nkomo said Chombo's announcement was illegal, as he had not consulted Cabinet and the Water ministry on his move. "You cannot announce that you are cancelling debt without consulting," he explained.
"He should have consulted me because Zimbabwe National Water Authority (Zinwa) supplies water to councils and in other areas directly to the people. So he cannot just wake up and say people should not pay rates."
Sipepa Nkomo said Zinwa will still require payments for its water supplies to the local authorities and wondered where Chombo thought they would get the revenue.
"This is the height of recklessness," he said. "This move will lead to local authorities collapsing because if they do not generate revenue, how are they going to buy water treatment chemicals?"
Sipepa Nkomo questioned how local authorities will pay Zinwa and the Zimbabwe Revenue Authority if they did not receive money for water supplies.
"He cannot order Zinwa not to collect revenue from either council or individuals because the institution falls under my ministry," he said. Sipepa Nkomo said it was too late for Chombo and his Zanu PF party to campaign using the writing off of bills.
"People are not stupid. Come July 31, they will vote Zanu PF out of power," he charged.
Meanwhile, the Coalition Against Corruption (CAC) has advised ratepayers to pay their bills to avoid crippling councils.
"By urging debt cancellation, Chombo is actually missing the point and misleading the people to actually worsen their plight," a statement the organisation issued read.
"The councils will be further cash-strapped and would dismally fail to offer any service at all."
CAC said councils were struggling to provide better service delivery to ratepayers as a result of inadequate funds and Chombo's calls were suicidal.
"As CAC, we greatly view such a move by Chombo as an election campaign gimmick that is meant to garner votes from the electorate while digging a grave disaster at their doorsteps."
The organisation urged ratepayers to pay their bills even in small amounts, so that they do not cripple the already financially strained local authorities.
"Politicians are well covered from all these social ills since they have the best service delivery," the organisation said.
In November last year, ratepayers owed the Bulawayo City Council $80 million with the local authority saying this was hindering it from delivering key services.