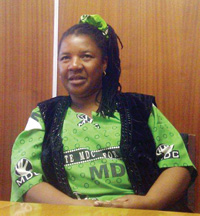 The mysterious disappearance of prominent human rights activist Paul Chizuze in February last year has inspired his wife to join politics.
Khulani Nkabinde    Staff Reporter
While there were reports that her husband had been abducted and possibly killed, Sibongile Maphosa believed the stories behind her husband's mysterious disappearance were probably  a bit far fetched.
"It was not the first time for him to leave home without telling me where he was going," she explained. "He would at times go for two months, only to resurface again.
"Those who worked with him in the civil society movement were, however, quick to point out that he had been abducted and possibly killed. I did not believe that assertion."
Maphosa said her husband's sister, Maxima Phiri, had also jumped onto the bandwagon, alleging that Chizuze had been abducted by State security agents.
"As it is, I have received reports to the effect that Chizuze is suspected to be alive and living in Rome, Italy," she said.
"His family interfered so much in our marriage, so much that at one point he sent me text messages saying he was contemplating suicide. "That was the time when he went for good and I have never seen him since."
The disappearance has inspired the mother of four to stand as a candidate in Bulawayo Central where she will face off with MDC-T's Dorcas Sibanda and Zanu PF's Mlungisi Moyo, among other candidates.
"I have always been actively involved in politics," she said. "However, there was a time when I stopped and concentrated on looking after my family.
"Chizuze's matter tore into my heart so much that I had to be treated for acute depression. I thought long and hard about my friend's advice and finally decided that politics was the right way to go."
Maphosa said she joined the MDC last year and became a district organiser and later secretary in the women's wing for Bulawayo Province, a position she still holds.
"Women can do well in all spheres of society including politics if they are granted equal opportunities," she said. "Women should also be taught about their rights so that they do not get oppressed by men."
Maphosa said she chose to become a member of the MDC, because she believes it is a "party that holds firmly onto democratic principles". Although she has not been in the political field for a long time, Maphosa believes she would win.
"I strongly believe in faith. Looking at the situation on the ground, I think chances are high that I will win," she said. "I trust my instincts. I want to bag the constituency for the MDC."
Maphosa said she will give the incumbent  Sibanda of the MDC-T, a good run for her money.
"She has played her part. Now it's our time to take over the constituency," she said. Born in Gwanda in 1970, Maphosa went to school in the same town.
She later did a secretarial course, but according to her, she "never got formally employed afterwards".
"I am one person who believes in self-employment. I have always been self-employed," Maphosa added.
Twitter feedback: @nkabindekhulani