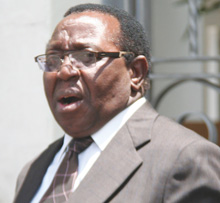 AN aspiring Zapu candidate has attacked Zanu PF national chairman Simon Khaya Moyo describing him as a politician who behaved like an uneducated person over recent remarks about Dumiso Dabengwa.
Pamela Mhlanga Own Correspondent
In an interview yesterday, Mark Mbayiwa, Zapu's southern region co-ordinator, said some Zapu members initially had respect for Khaya Moyo, but all that was now lost because he was behaving like an uneducated person.
"The late VP (Vice-President Joshua) Nkomo never owned Zapu, but was invited by those who formed Zapu so that he could lead the party," he said. "There is nothing of the sort, to think that because Nkomo left him (Khaya Moyo) in Zanu PF then we should all stay in Zanu PF. "We are sensible people who cannot force ourselves to stay in a party such as Zanu PF."
At a rally during the weekend, Khaya Moyo urged voters not to be confused by the Dabengwa-led Zapu, which he described as a party led by demon-possessed people.
Khaya Moyo had also claimed that Nkomo urged party members to remain in Zanu PF where he left them, but there were some people embarrassing themselves by seeking to nullify the 1987 Unity Accord signed between President Robert Mugabe and Nkomo.
Mbayiwa, eyeing the Umguza seat, said Zapu leaders were mature people who fought in the liberation struggle and had to be treated with respect. "If Khaya Moyo is happy in Zanu PF without the support of people in his home area who are supposed to vote for him, then he can stay put and leave us alone," he said.
Mbayiwa said Khaya Moyo had no right to talk about issues he was not knowledgeable about.