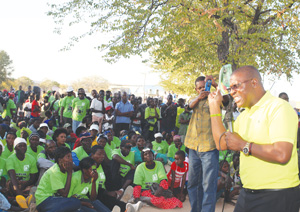 THE Welshman Ncube-led MDC has assured beneficiaries of the land reform programme that they will not be evicted from farms after elections amid reports that villagers in Insiza North were threatened with evictions.
Nqobile Bhebhe Chief Reporter
Some beneficiaries got land through supporting Zanu PF, but others have long defected to the MDCs.
Addressing campaign rallies in Kombo and Sikhuta resettlement areas on Friday, Ncube and MDC's Insiza North parliamentary candidate Qhubani Moyo, said no one will lose their land. This was after villagers raised concerns that they had been told that they risked losing their land if they voted for MDC during the July 31 polls.
"We have heard of the threats that once you vote for MDC the farms will be taken back," Moyo said. "I want to assure you that no one will be removed from farms and that is a promise. The land is your birth right. The new Constitution is even clear on that. No one will be removed.
"As your incoming MP, MDC and I will transform these areas from resettlements to human settlements, there should be decent water supplies, clinics and proper school facilities," he added.
On the sidelines of the Sikhuta rally, Gladys Ngwenya told Southern Eye  that they were worried about the eviction threats. "Zanu PF supporters embarked on a door-to-door campaign saying if (President Robert) Mugabe wins the elections all those who support Welshman Ncube will be evicted from the farms," she said.
"They also told us that if Mugabe is defeated we should know that there will be war. All this is being said by Zanu PF supporters." Moyo said the villagers should not be afraid to vote for MDC saying the "only way to punish a tyranny is by withholding your vote".
"You all fear Mugabe because you gave him your vote and that is power, but without your vote he is powerless, so vote for MDC," he said. Moyo will square off with incumbent Andrew Langa   of      Zanu-PF, Bekezela Mpofu of   MDC-T and Ernest Ndlovu    of    Zapu.