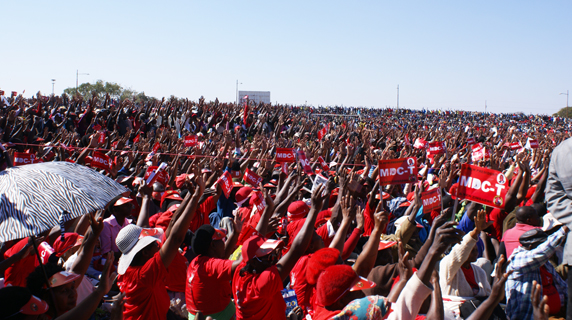 TENS of thousands of people yesterday packed White City Stadium to listen to MDC-T leader Prime Minister Morgan Tsvangirai, who said the July 31 election was a choice between darkness and prosperity.
SILAS NKALA/ NQOBANI NDLOVU
Thousands of people started thronging the stadium hours before the MDC-T leader was due to speak and by the time he spoke White City was a sea of red.
Accompanied by his wife Elizabeth Macheka, elegantly dressed, Tsvangirai had the crowd in a frenzy when he walked in. He had the crowd literally eating out of his hand when he took to the podium to promise a better Zimbabwe.
"What can they do in the next five years that they failed to do in the last 33 years?" he asked. "Zanu PF is clueless and voting Zanu PF will be retrogressive. The July 31 election is a choice between darkness and prosperity for generations and generations to come."
The MDC-T leader said President Robert Mugabe should be grateful to Sadc, which kept him in power through the coalition government.
"Mugabe's legacy is not about the role that he played during the liberation struggle, his legacy will be his record in the government since 1980," he said.
"He will be remembered for causing the suffering of Zimbabweans. "The MDC-T entered into a unity government in 2008 to rescue Zimbabweans and save the country." Tsvangirai questioned why Bulawayo was facing de-industrialisation and promised to reindustrialise the city and develop the whole of Matabeleland region that has faced years of neglect and underdevelopment.
He accused Zanu PF of deliberately causing the de-industrialisation of Bulawayo, citing for example the relocation of the Cold Storage Commission from the city to regions not known for livestock farming.
"The MDC-T has a plan to rescue Zimbabwe from a quagmire of poverty,a quagmire of corruption, quagmire of impunity and quagmire lack of accountability," he said.
"At least 10% of the national Budget will be set aside for the development of Matabeleland region. "The MDC-T will make Bulawayo a free economic zone that will attract investment and lead to the reopening of companies and industries.
"Industrialisation cannot take place when there is no efficient railway system. The MDC-T will rehabilitate the railway system as part of the industrialisation policy."
Tsvangirai said his party will ensure that Gukurahundi victims were compensated "because the scars will remain with us forever". Earlier on, Elizabeth Macheka, the Premier's wife, called on Zimbabweans to shun violence and urged Tsvangirai not to take for granted the support he is receiving from Zimbabweans.