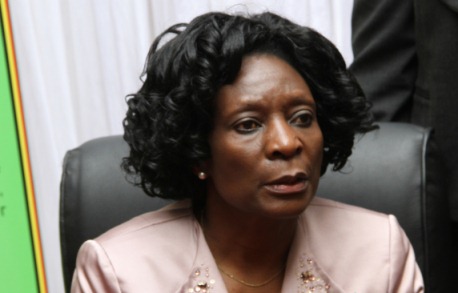 ZANU PF has gone for broke, releasing a series of radio and television advertisements attacking Prime Minister Morgan Tsvangirai ahead of elections due later this month.
REPORT BY STAFF REPORTER
The advertisements anchor on Tsvangirai's love life, which made headlines last year, ahead of his marriage to Elizabeth Macheka.
One of the advertisements, which has received a fair amount of airplay on ZTV, ropes in Nosipho Shilubane, who was allegedly dumped at the altar by Tsvangirai.
Another advert quotes Rebecca Austin, a director of Women in Management in the United Kingdom, saying she thought Tsvangirai had made a grave mistake and no one "wants a President who behaves like that".
"As a young lady, I looked up to Tsvangirai as a fatherly figure, someone who is supposed to protect me," an unidentified woman says, lamenting that the Prime Minister had impregnated a girl of her age.
Shilubane is then shown decrying that Tsvangirai told her to be patient, only for him to dump her via a text message.
"I received a message from an unknown number that said the relationship was terminated," Shilubane says. "At an age of 60, you dump women with smses, then what do the young ones do."
The advert then shows pictures of Tsvangirai and Shilubane aboard a luxury cruise liner. Online, the adverts are being placed on video sharing site, YouTube, under the name Team Zanu PF.
However, their account has been suspended on microblogging site, Twitter, for as yet unexplained reasons. In another advert, Zanu PF claims the MDC-T wanted to legalise homosexuality and for that reason the party should not be voted into power.
The clip then shows Tsvangirai, saying same-sex marriage is a human right and should be included in the Constitution.
"My attitude is that I hope that the Constitution will come up with freedom of sexual orientation," the Prime Minister is quoted saying. "To me it is a human right."
The advert then asks what the Bible says, saying it calls it an abomination.
So far, Mugabe has placed anti-gay sentiment at the top of his agenda, warning that if his party loses, Tsvangirai's MDC-T will legalise the practice.
Mugabe has not hidden his disdain for homosexuality, infamously saying gays were worse than pigs and dogs.
MDC-T spokesperson Douglas Mwonzora said the advertisements being shown on ZTV were unlawful and against the new Constitution, which bans the use of hate language.
"This is the assassination of character of our presidential candidate. We are lodging a complaint with ZBC and ZEC because we want the right of reply," he said.
"If ZBC is carrying bad messages from Zanu PF about Tsvangirai including immorality issues, we also want to talk about certain things that Mugabe and his current wife have done."