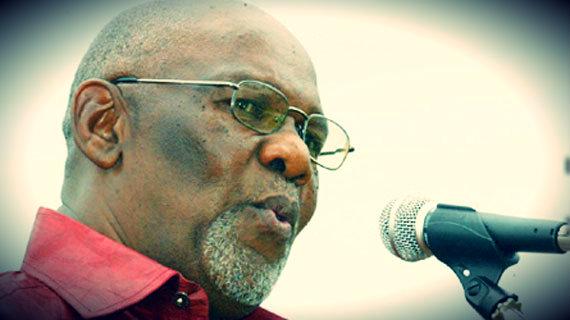 ZAPU president Dumiso Dabengwa yesterday said there is a danger that soldiers might end up forming a parallel government if they are allowed to continue dabbling in politics.
Dumisani Sibanda
Addressing about 400 people at a rally at Rutendo Hall in Mufakose, Harare, during the launch of Zapu's manifesto in the northern region,   Dabengwa, a presidential candidate in the forthcoming polls, said reports that solders had been deployed in some areas were worrying.
"We don't understand this," Dabengwa said.  "Why are they being deployed?
"They should not be involved in politics.  They (soldiers) are not for any political party. "We should not corrupt and divert them from carrying out their constitutional mandate of defending the country and its people. They are being deployed for what purpose? We hear in some areas they have been seen distributing Zanu PF T-shirts.
"We will end up like Egypt where a civilian government is run under the threat of the army and that does not augur well for our country."
Dabengwa said the failure to implement security sector and media reforms as well as removal of laws like the Public Order Security Act that was being used to block some rallies, meant the elections would not be free and fair.
"As long as those issues which are in the (Sadc) roadmap towards a free and fair election are not implemented, where we still have a Zimbabwe Electoral Commission, which is under people who are partisan to certain parties, we will not have a free and fair election," he said.
"In one district we understand a ZEC (Zimbabwe Electoral Commission) official was going around saying Dumiso Dabengwa and Welshman Ncube  have stepped down as presidential candidates, so vote for Morgan Tsvangirai for President."
Dabengwa castigated some former freedom fighters for holding Zimbabweans to ransom by claiming they were the ones "who brought independence".
"Virtually, everyone, in one way or the other, contributed to the liberation of the country. "There were women who cooked for the boys (freedom fighters), there were those who bought clothes for the boys . . . some recruited the fighters," he said.
He said his party wants the "chaotic" land reform programme to be revisited with recommendations for the productive use of the resource as contained in such reports like the (Mandivamba) Rukuni and (Charles) Utete Commissions on land implemented.
"Government money was spent to set up and facilitate the work of these commissions and their reports were merely shelved away," Dabengwa said.
He said Zapu wants an independent anti-corruption commission to stop the vice in both the private and public sector.
Among the Zapu leaders who attended the rally was the party's secretary-general Ralph Mguni who has been operating from the United Kingdom.