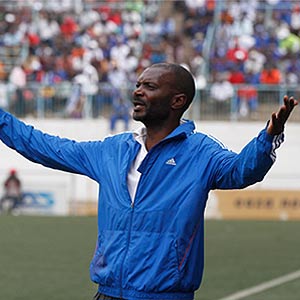 DYNAMOS go into this afternoon's Castle Lager Premier Soccer League (PSL) match at Rufaro against Buffaloes haunted again by the ghost of injuries.
MICHAEL MADYIRA Sports Reporter Facing a side that halted their unbeaten run this season, Dynamos would be missing injured strikers Washington Pakamisa and Patrick Kumbula as well as the versatile Thomas Magorimbo and goalkeeper Artwell Mukandi.
Pakamisa and Mogorimbo were injured in last week's 1-0 defeat to How Mine in Bulawayo in a match where Pasuwa complained about referee Hardlife Ndazi. Also missing are Ocean Mushure and Devon Chafa with the national team in Zambia.
Striker Francisco Zekumbawire is not fully fit and according to Pasuwa he will play a cameo role in today's match. "You get to a point where you think the team is in its prime, but then there comes injuries, national team commitments and transfer wrangles. As a coach you never plan well," Pasuwa complained.
"It disturbs the rhythm because we are losing at least two players after every game. The team then fails to win and people outside never understand what would be going on." Of the 25 senior players registered with the PSL, Dynamos have managed to use only 22 as they failed to get clearances for Sydney Linyama and Congolese midfielder Jeremy while Byron Madzokere has been battling a nagging back injury. A frustrated Jeremy has gone AWOL and did not train last week as Pasuwa suspects he has gone back to DRC after Dynamos failed to pay FC Lupopo $5 000 for his clearance.
During this transfer window, Pasuwa is stuck in a crisis where he is afraid of a repeat of a situation where clubs might not issue clearances to players he would have acquired due to non-payment of transfer fees.
"There are players we would love to sign, but we cannot because there is no money. Maybe we have to look at our juniors where there are no transfer money issues involved," he said. "But between July 15 and 20, we should have finalised our list of 25 senior players who should all be available for selection during this second half of the season. This is a very crucial period."
A suspected plot to oust club chairman Kenny Mubaiwa and coach Pasuwa has also overshadowed Dynamos preparations for the Buffaloes match. This could be good news to Buffaloes coach Timothy Masachi, not intimidated by the usually hostile environment at Rufaro. "It does not matter that we are away. We now know how Dynamos play and we can win. It will be  a tricky encounter and chances are 50-50 for both teams to win. We are good in attack more than any other department," Masachi added.