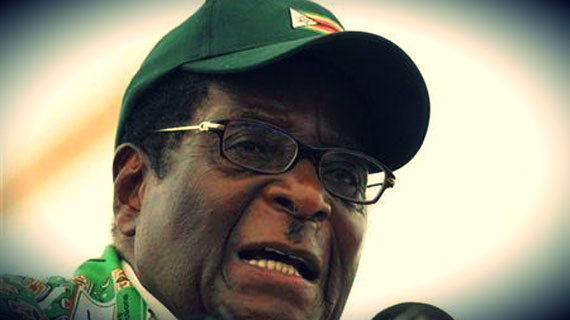 Staff Reporters FIRST Lady Grace Mugabe on Thursday said the first time President Robert Mugabe met Prime Minister Morgan Tsvangirai, he came home trembling, as he had never seen an uglier man.
But Tsvangirai also hit back at a separate rally saying Mugabe's age, at 89, had become a national security risk, as the campaign trail took a humorous turn.
"He (Tsvangirai) is ugly both facially and in his heart," Grace told a rally in Nzvimbo, Chiweshe. "When Baba (Mugabe) first met him physically, he came home trembling and I asked him what the problem was, to which he (Mugabe) said he had never seen someone that ugly."
The First Lady said if Tsvangirai looked at himself in the mirror, he would think he was looking at a monster. Grace described the Prime Minister as a philanderer who spent time on exotic beaches, while her husband was consistent in messages of empowering people.
"Mugabe has been consistent in his messages about empowering the people not like others who spend their time going to exotic beaches with different girlfriends," she said. "Those who dream about power should continue dreaming, but we are at State House to stay."
On the other hand, Tsvangirai said nearing 90, the Zanu PF leader had long gone past retirement age and should pass on the baton to younger and more energetic leaders. Addressing a campaign rally at Neuso business centre in Mhondoro, Mashonaland West, Tsvangirai said he doubted Mugabe's ability to govern for another five-year term. Mugabe turns 90 next February.
"I cannot avoid talking about Mugabe's age," he said. "It is a serious national issue. "The old man needs to rest because at 90 years he should be enjoying his pension. "We can't trust a 90-year-old to run this country for another five years. I gave him four years to pack, now it's time for him to go and rest in Zvimba (Mugabe's rural home)."
In Mhondoro, Tsvangirai, seemed to praise Mugabe's legacy, but said it was time for him to rest. "Mugabe did some things right. It's his legacy," he said. "But now we are saying, go and rest. There is nothing wrong with that. Mugabe's problem is old age.
"He forgets that the GNU (Government of National Unity) was crafted for him and not for Tsvangirai who had won the election. Mugabe's henchmen from the police, army and CIO (Central Intelligence Organisation) are coming to me informing me on the things to watch out for. I know everything. I can even tell you what he has eaten today. If you want to vote for Mugabe, it's your choice, but it will go into the Guinness Book of Records that the people of Zimbabwe have given a 90-year-old man five more years to rule the country."
This came as Mugabe told Zanu PF supporters at a campaign rally that the MDC-T-run Finance ministry deliberately refused to fund Zanu PF-initiated programmes, including the agricultural sector and general elections, to discredit him and his party. "Small-scale farmers need assistance as do industries, which have crumbled," he said. "All these were not being supported because the Finance ministry was in the hands of MDC. "They did not want Zanu PF-initiated programmes. Even our children on scholarships were not being funded all in an effort to humiliate Mugabe and Zanu PF.
"We don't want to go back to the unity government." Finance minister and MDC-T secretary-general Tendai Biti said the party had only agreed to join the coalition government with Zanu PF on humanitarian grounds following nearly 30 years of economic plunder. Meanwhile, Tsvangirai was yesterday forced to cancel campaign rallies scheduled for Murombedzi business centre and Chinhoyi, after police reportedly denied him clearance. Both centres are located in Mugabe's backyard, with Murombedzi just 10km from his rural home.