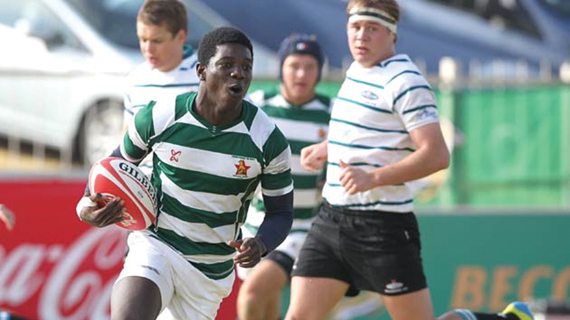 THE Sables are bracing for a hostile reception when they tackle Madagascar in front of an expected sell-out crowd of over 30 000 fans for their CAR Africa Cup Division 1A Championship rugby semi-final encounter today.
DANIEL NHAKANISO
SPORTS REPORTER
The match kicks off at 3.30pm at the Mahamasina Stadium in Antananarivo soon after the other semi-final encounter pitting East African rivals Uganda and Kenya.
Over 40 000 fans turned out to support their side when the Indian Ocean Islanders famously beat Namibia to win the Africa Cup Division 1B title last year.
The Malagasy national rugby side coach Berthin Rafalimanana told L' Express de Madagascar  that his charges would be banking on home advantage to upstage the Sables.
"We expect that the competition will be tough, but we hope the support will have the same impact as the Group B 2013 when over 40 000 people attended the final.
"We are aiming for the title of in 2013 and stay in the race for qualification for the 2015 World Cup to be played in England.
"The players are super motivated to fight to rise again on the top step of the podium," Rafalimanana said.
The Sables, who are gunning for a second consecutive continental crown, will go into the tournament as the highest ranked country on position 31, some 12 places ahead of their opponents today. Madagascar, due to lack of size and physique, are expected to adopt an open running game.
Zimbabwe will try to counter this by ensuring their forwards dominate the breakdowns, the set pieces and collisions and set up clean balls for their backs.
In the front row coach, Brendon Dawson opted for the trio of Tapiwa Mangezi, Keith Murray and Piet Joubert with the towering uncapped Simba Bwanya and Jan Ferreira providing stability in the second row and the edge during the line-outs.
Captain Jacques Leitao will marshal the loose three which will also boast of Andrew Rose and Njabulo Ndlovu. Zimbabwe's backline was the hardest hit by last week's sacking of several senior players. The uncapped duo of scrumhalf Philimon Machisa and fly-half Boyd Rous will earn their Sables debuts in a surprising half-back combination with the centre pairing comprising of Garth Ziegler and Shayne Makombe. The back three will see regular fly-half Lenience Tambwera being redeployed at full-back while Stephan Hunduza and Tafadzwa Chitokwindo will occupy the wings.
Sables' Starting XV: 15 L Tambwera, 14 T Chitokwindo, 13 G Ziegler, 12, S Makombe, 11 S Hunduza 10, B Rous, 9 P Machisa, 8 N Ndlovu, 7 A Rose, 6 J Leitao (Captain), 5 S Bwanya, 4 Jan Ferreira, 3 T Mangezi, 2 K Murray, 1, P Joubert
Replacements: Daniel Nhepera, Jakov Jakov, Simbarashe Mandioma, Sanele Sibanda, Martin Wolfenden, Biselele Tshamala, Kilvan Magunje, Craig Elcombe, Kudakwashe Chiwanza.