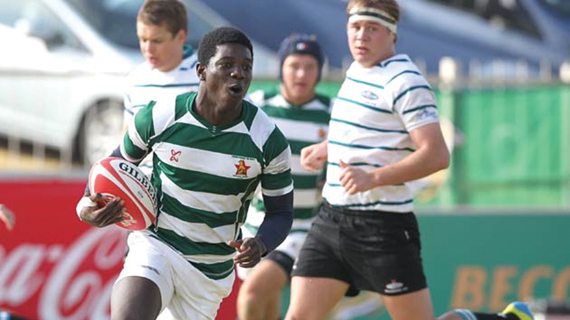 YOUNG Sables full-back Brandon Mandivenga put up an impressive all-round display to ensure Zimbabwe got their Craven Week campaign off to a promising start with a solid 35-17 victory over Griquas at the Old Peter Mokaba Stadium in Polokwane on Monday.
SPORTS REPORTER
Zimbabwe Under-18. . . . . . (13) 35 Griquas Country . . . . . . . . . . (3) 17
The Peterhouse College star put on a man-of-the-match performance after contributing 23 points to Zimbabwe's points tally through a brilliant individual try and his prodigious kicking.
Zimbabwe started strongly and they exposed the Griquas' indiscipline on the breakdowns to take a 9-0 lead through three penalties from the boot of Mandivenga.
Griquas hit back to stay within string distance with a penalty of their own from outside centre Dimitrio Tieties, but Zimbabwe were able to strike a crucial blow on the stroke of half-time when left-wing Jabulani Mutukwa got over for the opening try.
Zimbabwe were clearly in control and kept the pressure on after the break. Another slick backline move saw inside centre Munyaradzi Mashaya bursting through the Griquas defence for their second try which gave them a 23-3 lead after a conversion by Mandivenga.
The full-back had been the creative spark for Zimbabwe, and it was not long before he was able to cross the whitewash himself, converting his own effort to put Zimbabwe firmly in control with a 30-3 advantage.
Zimbabwe were struck a blow when loose forward Ivan Bawden was shown a yellow card, and Griquas used the numerical advantage to fight their way back into the match.
Tieties glided through for a try of his own which reduced the gap to 30-10, and they followed that up when replacement scrumhalf Gideon Bruwer got over for their second try. However, Zimbabwe had the last say when Mutukwa got over for his second try, which sealed the 35-17 victory.
Scorers Griquas Tries: Gideon Bruwer, Dimitrio Tieties Cons: Dimitrio Tieties (2) Pens: Dimitrio Tieties (1) For Zimbabwe: Tries: Brendon Mandivenga, Munyaradzi Mashaya, Jabulani Mutukwa (2) Cons: Brendon Mandivenga (3) Pens: Brendon Mandivenga (3) Zimbabwe: 15 Brendon Mandivenga, 14 Brandon Boshi, 13 Thomas Chadwick, 12 Munyaradzi Mashaya, 11 Jabulani Mutukwa, 10 Rukudzo Gona, 9 Tinashe Gwisai, 8 Ivan Bawden, 7 Nicholas Burnett, 6 Barend Moolman, 5 Philangezwi Mudambanuki, 4 Tafadzwa Kufazvinei, 3 Tapiwa Muringani, 2 Alexander Zwart, 1 Thabani Mujeni. Replacements: 16 Stephen Bhasera, 17 Edo Chikwezvero, 18 Glynne Rorke, 19 Tinashe Gonese, 20 Andrew Dollar, 21 Justin Zietsman, 22 Tawanda Ngosi.