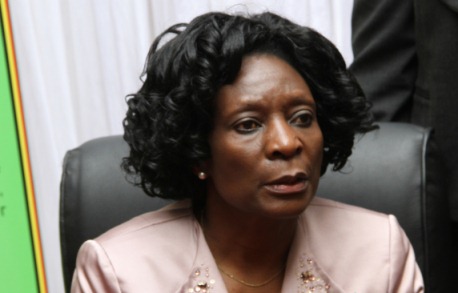 THE Zimbabwe Electoral Commission (ZEC) yesterday disclosed that about 70 000 police officers had requested to be considered as special voters, contrary to claims by national police spokesperson Assistant Commissioner Charity Charamba that 50 000 police officers had been registered.
FELUNA NLEYA/WONAI MASVINGISE
Addressing a media briefing in Harare, ZEC chairperson Justice Rita Makarau said they had issued 120 000 forms for applications for special voting to be conducted on July 14 and 15, adding that Treasury has already released $11 million for the exercise.
"Of the 120 000 forms, we issued 70 000 to the ZRP, 44 000 to ZEC, 3 087 to the Zimbabwe National Army (ZNA) and 2 000 to the Zimbabwe Prison Service (ZPS)," she said.
"From the forms we issued out we received 69 222 from the ZRP, 15 954 forms from ZEC, 140 from ZNA and 2 000 from ZPS."
Charamba last week said the police force had registered 50 000 police officers as special voters ahead of the July 31 poll.
"The Zimbabwe Republic Police has registered 50 000 police officers as special voters since they will be deployed in various polling stations away from their workstations," she said.
"This is according to Section 81 of the Electoral Act, Chapter 2:13. "The ZRP regular members will be augmented by police constabulary members . . . according to the Police Act, Chapter 27 (3) police constabulary members may be employed to assist regular members of the force on any occasion."
MDC-T leader Prime Minister Morgan Tsvangirai last week told ZEC that his party had unearthed a massive scam, where Zanu PF allegedly plotted to rig the forthcoming harmonised elections using State security agents.
Home Affairs co-minister Theresa Makone said she was concerned, as Zimbabwe only had some 38 000 police officers and queried where an additional 12 000 were coming from.
Justice Makarau added that the applications for special votes would be vetted to weed out undeserving elements. "Of the applications we have received, we have to look at each and every application and it has to be verified," she said.
"We want to know if it is a ZRP member. They should have their identity numbers and an EC number to show that they are in the force. "Some of the forms will be rejected because they will be incomplete.
"We also check the forms to see if the person is on the voters' roll. If they are on the voters' roll then it is processed if they are not, their application will not be processed. It will be rejected."
The ZEC boss said 209 polling stations had been identified for the special voting exercise, adding these will be located outside army barracks and police camps.
On postal voting, Justice Makarau said ZEC had received 262 forms from the Foreign Affairs ministry.
Meanwhile, ZEC has added more voter registration teams in Epworth, Chitungwiza, Mt Darwin, Mazowe, Bulawayo, Masvingo, Chiredzi, Mutare, Chipinge, Makoni and Mutasa following complaints that there were few registration centres in those areas.