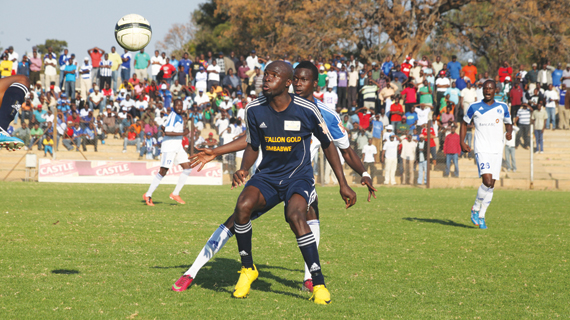 How Mine. . . .  (1) 1 Dynamos. . . . . . . . 0 Premiership new boys How Mine turned the heat on league champions Dynamos when they handed them their second defeat of the season in a Castle Lager Premier match at Luveve Stadium yesterday.
By Fortune Mbele, Sports Reporter
Simbarashe Sithole scored his sixth goal of the season in the 20th minute to give the gold miners the important three points they need to stay in top-flight-football in front of the biggest crowd to grace Luveve Stadium this year.
But part of the multitude of the Dynamos fans turned rowdy in the dying minutes of the game throwing missiles on the How Mine bench and play had to be stopped briefly and police details had to  be reinforced to stop the pandemonium.
Some of the fans flew missiles on How Mine goalkeeper Notice Dube.
It was How Mine's first win against Dynamos after beating other league giants Highlanders with the same score line in May at Barbourfields Stadium.
How Mine lost 3-0 to Dynamos a fortnight ago. They now have amassed 24 points and denied Dynamos a chance to go top on the log standings – dropping instead to position four with 28 points – as Harare City claimed top spot on 31 points after beating Hwange 2-1 at Rufaro Stadium yesterday.
How Mine coach Philani Mabhena was ecstatic for being the giant killer and picking up three points.
"It is an important victory and an important three points for us. It is a special one for the Bulawayo fans and we now need 12 points to survive relegation. The win will definitely calm a lot of nerves in our camp after we went through a bad spell. It had been a difficult period for us going through that spell. We played Dynamos two weeks ago and knew their strengths and weaknesses and we organised ourselves well in midfield and defence," Mabhena said.
DeMbare coach Kalisto Pasuwa refused to speak to journalists and only said: "Write what you saw. I have no comment."
Man-of-the-match for How Mine Timothy January troubled Dynamos right-back Morris Kadzola on his flank and set up Sithole who pushed the ball once and let off a thunderbolt from inside the box which left the Glamour Boys goalkeeper George Chigova watching, 20 minutes into the game.
And How Mine held on to that goal to the end. Two minutes before that goal, January had also taken advantage of the Kadzola escapades upfront and intelligently sent in another cross which eluded Chigova, but Arnold Ndiweni miscued inside the box.
A chance for Dynamos came in the 29th minute when Russell Madamombe was brought down at the edge of the box and Devon Chafa wasted his effort.
As Dynamos began to mount pressure on How Mine. Washington Phakamisa's shot 10 minutes later was safely collected by an alert Dube and Kadzola, trying to make amends, had his header going wide in the 42nd minute from a Tawanda Muparati corner-kick.
January had a field day in Kadzola's flank as the right-back was too quick to go into attacking mode, but failed on recovery.
Dynamos piled pressure on How Mine in the second half as they dominated play with Madamombe hitting the right upright post with a blinder in the 56th minute and Augustine Mbara's header missed the right upright by a few centimetres three minutes later.
How Mine skipper Hebert Dick and Nelson Tachi kept Phakamisa under lock and key and he had to be replaced by Farai Mupasiri in the 78th minute.