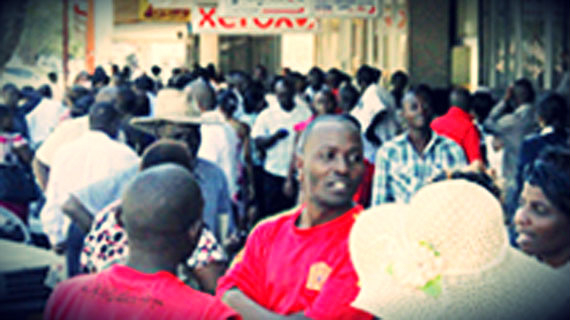 BUSINESS came to a standstill at Tredgold Magistrates Court as scores of onlookers jostled to catch a glimpse of Geozing Pawn Brokers owner George Zingane, who is accused of defrauding over 100 people of more than $180 000.
Report by Silas Nkala
Court 1 was packed, while other people stood in the corridors and the verandas, as they awaited the outcome of the hearing.
However, their wait was in vain after the State sought a postponement of the matter to July 16, as prosecutors await the appointment of a new company representative.
The State led by Jeremiah Mutsindikwa indicated that following a High Court order, which directed the company to be liquidated, Zingane could no longer be taken as a representative and the trial will start when a new liquidator came forward to represent the company as ordered. Mberewere remanded the case to July 16.
Zingane is out of custody on $2 000 bail with the usual conditions applying.
Close to 100 people who were standing outside jostled at the court entrance trying to get a glimpse of what was happening inside the gallery. Police officers maintained order outside the gallery.
Zingane, represented by Vonani Majoko, of Majoko and Majoko Legal Practitioners has not been formally charged.
Legal papers revealed that 110 depositors listed in the schedule brought to court lost a total of $186 500 with the least depositor having banked $50 and the highest having banked $7 100.
More clients not listed in the schedule reportedly lost a lot of money with some having invested over $100 000 in the scheme.
The court heard that during the period March 2012 to March 2013, Zingane of Kingston Court, Famona in Bulawayo, who operates Geozing Pawn Brokers at 2 Ramjis Complex, Corner 11th Avenue and Robert Mugabe Way in his capacity as a director, unlawfully and with intent defrauded 110 people stated in the schedule produced in court.
He allegedly misrepresented to them through advertising on a local newspaper and issued pamphlets advising the public that Geozing was registered to accept deposits from the public and any invested funds would yield 30% interest in every 30 days.
Zingane later failed to pay his clients, thereby causing prejudice to many of them.
This he did without a banking licence. Reports say more than 4 000 people were affected by the pyramid scheme. After some of Zingane's clients discovered in March this year that he was no longer able to pay them back, they thronged his offices prompting him to call the police.
Some clients then reported the matter, leading to his arrest.