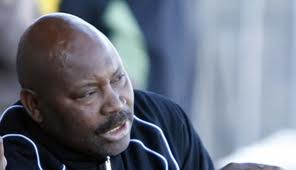 TWO Zimbabweans, Madinda Ndlovu and Elvis Meleka, completed what has been a very successful football season in Botswana after scooping top awards on Saturday night, to add on to the champions' medal they won with Premier Soccer League side Mochudi Centre Chiefs. REPORT BY HENRY MHARA
Meleka emerged as the biggest winner after being named the beMobile Player of the Season at a ceremony that was held at Gaborone International Convention Centre.
The former Gunners and Warriors international pocketed a cool P50 000 for winning the top gong.
Former Warriors coach Ndlovu, who guided Chiefs to back-to-back titles, was named beMobile Coach of the Year.
Khathazile, as he was famously known in his playing days, was handed a P10 000 cheque.
Meleka was grateful to his teammates for the award. "I would like to thank God and my teammates for the award. I love you guys," Meleka wrote on social network Facebook yesterday.
To win the award, Meleka beat challenges from Gaborone United midfielder Alphonse Modisaotsile and Nico United's Topo Piet.
Meleka arrived at Chiefs last season together with his fellow countryman Arnold Chaka and fitted well at Magosi, taking the team to the championship.
Ndlovu warded off challenges from David Bright of Gaborone United and Elijah Chikwanda of Nico United.
The former Highlanders and Warriors flying winger who went on to coach the two teams, guided Chiefs to their third league title this year.
It was an evening for the champions after two of their players also went home with top honours.
Besides Meleka, Chiefs left winger Galabgwe Moyana scooped the Players' Player of the Season award while Moloi successfully defended his Golden Boot award after finishing as the top goalscorer in the league.