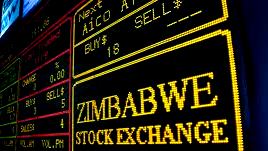 THE Zimbabwe Stock Exchange (ZSE) is set to engage an automated trading system consultant as the December deadline to set up an electronic trading platform for the local bourse beckons.
Report by Gamma Mudarikiri
In a notice dated June 13, the ZSE interim board said it was looking at conferring with a consultant in the implementation of an electronic trading system within a period of six months.
"ZSE announces that it wishes to engage a consultant for its automated trading system project," part of the notice reads.
"ZSE has embarked on an automated trading system project for implementation by December 31."
The project will involve identification and acquisition of suitable software, hardware and networking infrastructure to deliver a solution based on the requirements defined by the exchange.
ZSE is expected this month to discontinue the manually-prepared reports dispatched through its e-mail daily service, following the launch of its web data portal system in May.
The new services will include an inter alia "immediate" data feed, providing access to information as soon as it has been processed and a "delayed" data feed, providing information at the end of the day, in addition to the other channels such as widgets an RSS feed and e-mail alerts.
ZSE said its mission was to provide investors with details to make informed investment decisions based on complete and timely information.
The change by the bourse to an online data system is in line with the ZSE's vision to modernise its impact on consumers of financial information such as commercial data vendors, media, brokers, pension funds, commercial banks and anyone with an interest in providing investment information on their websites or online.
The new data dissemination developments are only part of a number of initiatives that ZSE is working on, as it strives to bring its operations in line with the prevailing modern global standards.