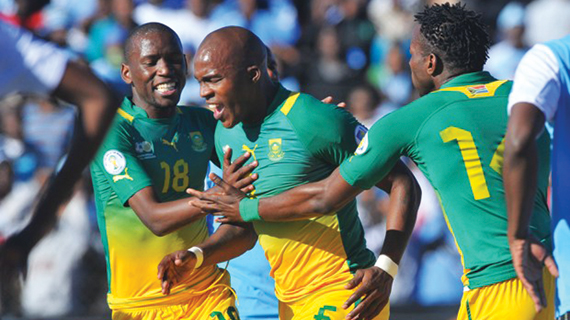 JOHANNESBURG — Bafana Bafana's victory over the Central African Republic (CAR) on Saturday was an early and perfect birthday present for midfielder Reneilwe Letsholonyane who turned 31 on Sunday.
By Supersport
Bafana Bafana beat CAR 3-0 in a 2014 World Cup qualifier on Saturday with Letsholonyane playing a pivotal role in that crushing victory.
"It was a great game for us, three great goals and three valuable points, but personally it was an early present for me a day before my birthday and I would like to thank every member of the squad for making me enjoy my birthday in such a wonderful way, far away from home," Letsholonyane said.
"It was not an easy game, playing away from home and above all, we did not prepare the way we wanted to. However, it did not affect us much because we knew what to expect. It was difficult in the beginning as they also needed points, and they tried to unsettle us playing in our half. Getting that first goal was crucial as it settled our nerves."
The dreadlocked midfielder said the mission was not completely accomplished as there was the issue of Sunday's match against Group A log leaders Ethiopia.
"We have to beat Ethiopia; there are no two ways about it. I had a feeling that they were going to win in Botswana because they are a stronger side, but then that is good because it means we have to do the business ourselves and not depend on the next team to help us qualify.
It is as simple as that. We have to beat Ethiopia and top the group before we play our last qualifier against Botswana at home," Letsholonyane added.
"But this one is going to be more difficult because it is an away game in the true sense of the word and with all their supporters behind them; it is going to be one hell of a game.
"We have to work extra hard to get the points as this is most likely to be the group decider.
Whoever loses will have to play catch-up and with only one match remaining, it is going to be very hard if not impossible.
If we lose this match, we have to depend on CAR to stop Ethiopia when we play Botswana, and that is not an ideal situation we want to find ourselves in."
Letsholonyane has made 40 appearances for Bafana Bafana since his debut in September 2008 in an international friendly match against Malawi in Germiston. —SuperSport