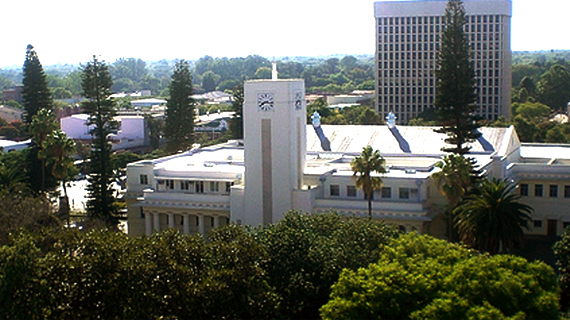 THE de-industrialisation of Bulawayo is due to lack of government policies protecting local companies from foreign competition, following the liberalisation of the economy in the 1990s, a high ranking army commander has said. By Gamma Mudarikiri
Addressing a business forum in Bulawayo on Wednesday, Brigadier General David Chiwedza said the government had made a mistake in liberalising the economy in 1992, saying this was the reason Zimbabwe was being flooded by cheap foreign goods mainly from China and South Africa, while local industry continued to suffer.
"There is no way industry will be revived in Bulawayo if the government has no control of markets," he said. "Where will the local companies sell their goods when the market is left flooded with cheap foreign good?"
He said countries like China, one of the biggest emerging economies in the world have tight controls on their markets, to protect their local industries, something which Zimbabwe has failed to do.
Zimbabwe liberalised its economy in 1992 with the adoption of the Economic Structural Adjustment Programme (Esap), which among things called for the complete liberalisation of foreign exchange and trade regime, removal of subsidies and rationalisation of public enterprises. Economic analyst Erich Bloch, however, said the economic downturn in Zimbabwe and the subsequent closure of companies was triggered by intervention in the Democratic Republic of Congo (DRC) war, rather than the liberalisation of the economy.
"The economy of Zimbabwe was doing well even after liberalisation until 1997, when the country was involved in the DRC war," he said.
Bulawayo continues to de-industrialise with 60 companies in the city, once the industrial hub of Zimbabwe, reported to be on the verge of collapse.
Last year alone, 85 companies closed in the city mostly dominated by the clothing and textile sector representing 74%, motor and construction sectors at 22% and 4% respectively.
Bloch said the closure of companies was not only affecting Bulawayo, but was a countrywide problem.
"In terms of percentages, the closure of companies is the same in all the towns in the country," he said. "In Bulawayo, the issue is that the city is the industrial hub of the country, that is why in terms of numbers more companies are closing."
Bloch said he was optimistic that industry in Bulawayo would revive, but this would depend on the country holding free and fair elections to retain the international community's confidence and unlock foreign direct investment.