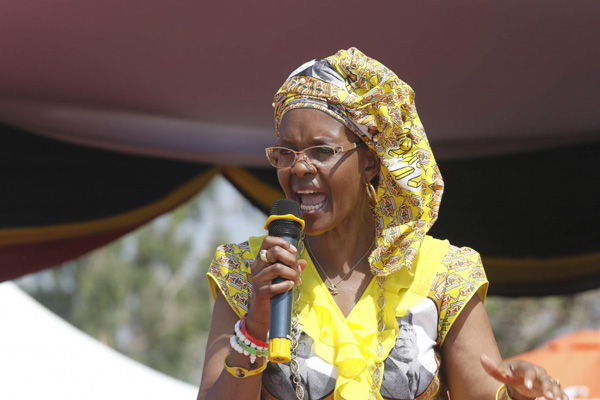 ZANU PF supporters and legislators in Manicaland yesterday claimed the bulk of goods donated by First Lady Grace Mugabe during her tour of Chimanimani in the province last Thursday, were looted by State security agents and other top government officials, leaving the intended beneficiaries — the villagers — with nothing to take home.
BY OBEY MANAYITI
Grace donated various goods — which included 25 000 litres of cooking oil, 3 000 bars of washing soap, 3 120 tablets of bath soap, 240kg of washing power, 4 358 pairs of shoes, 100 tonnes of fertiliser, maize and rice — and tasked security agents to distribute them to the needy villagers.
Buhera South MP Joseph Chinotimba initially said: "We heard about that and we investigated."
He, however, later backtracked, saying the suspects were released after it emerged that they had been wrongly accused.
Chinotimba, however, admitted that the majority of people from his constituency went home empty-handed because the distribution was done well into the night.
"The people of Buhera did not receive anything. The distribution was done late, but you can ask (acting Zanu PF Manicaland chairman Samuel) Undenge," he said.
Undenge's phone went unanswered for most of yesterday when NewsDay sought his comment.
Others said some people in Chimanimani were livid, as the bulk of the foodstuffs and other donated items never got to the intended recipients.
"The rally ended late and the distribution was slow, so people had to leave and go to their homes. Some came from far-away places and it was not worth waiting," a Zanu PF member, who refused to be named, said.
"However, they are angry that employed people, who receive monthly salaries, would steal from poor villagers. "We reported the matter to Undenge and we are waiting for his response."
Some party members allege the donated items were now being sold by vendors.
"It was survival of the fittest," a legislator who declined to be named said.
"There was chaos, but at the end, we didn't see what happened to the majority of the donated goods."
Police in Manicaland said they had not received any theft reports, while Provincial Affairs minister Mandi Chimene could not be reached for comment, as she was said to be in a meeting.