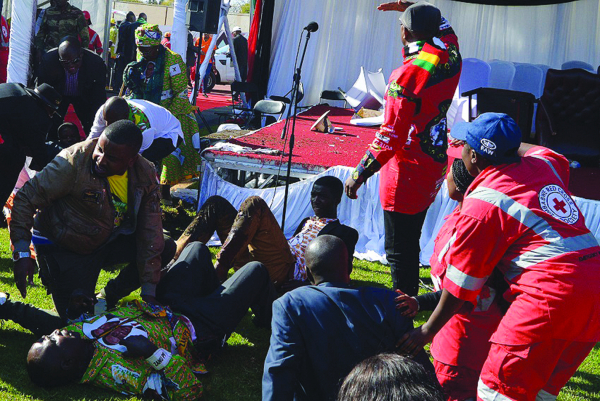 WE'VE no doubt that the Saturday explosion at Zanu PF's campaign rally at White City Stadium in Bulawayo, which has claimed two lives so far, took the majority of Zimbabwe's war-weary citizens by surprise, given the relative peace that had obtained in the country prior to the incident.
Unlike the past elections that were marked by killings, internal displacements, destruction of property and systematic intimidation of mainly opposition activists, this time around the country's politics had taken a somewhat mature route – allowing for all political actors to freely solicit for votes even in the so-called "no-go areas" without fear.
It's our hope that as State security apparatuses conduct the hunt for those behind that dastardly attack, they will not end up closing up the democratic space, or at worst deploy the military to crack down on the opposition.
We also urge our politicians from across the political divide to exercise restraint and avoid making inflammatory statements during this dark period when tempers are still running high following the weekend tragic incident.
The atmosphere is so charged up that any slip of the tongue or reckless statement could spark violent clashes that could easily degenerate into civil strife. President Emmerson Mnangagwa, although he has been dismissed by his critics for not having a democratic bone in his body, deserves kudos for exhibiting a high level of statesmanship by calling for peace and love in the midst of adversity.
On Saturday night, he urged Zimbabweans to be united and address our differences peacefully. He also added that the strongest response to violence is peace. The strongest response to hate is love.
For a person who has survived several alleged attempts on his life over the past few years and who is presumed to be the target of the Saturday attack, Mnangagwa could have easily thrown caution to the wind and declared war against his rivals, causing unnecessary bloodbath.
Mnangagwa even pledged that the attack would not derail what has been a largely peaceful election campaign so far, adding elections would go ahead on July 30 as scheduled.
Back to the Saturday incident itself, we call for an urgent and independent investigation so that the culprits can be brought to book and end this cycle of violence, most of which has gone unreported, particularly in the rural areas.
Any delays in bringing this matter to finality, as has been the case with other related attacks on the private media and opposition politicians, would cast aspersions on the State's commitment to breaking the cycle of violence.
Mnangagwa and all members of his administration should use the incident to demonstrate to the world that Zimbabwe has indeed turned the corner and now committed to flushing out societal malcontents without shedding blood.