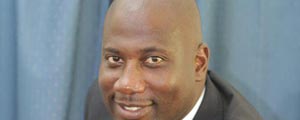 Sports lovers will tell you how painful it is to watch their team failing to equalise or win after putting so much effort and using every bit of energy left in the dying moments of the game.
Sermon of the week by Pastor Erasmus Makarimayi
As 2013 awaits your choices and decisions, I want to instruct and inspire you to make the best of the year. The good thing is that no matter who you are and where you are, the year is offering all of us 365 days.
This does not matter whether you are young or old, rich or poor, saved or heathen, black, coloured, or white, resident of the northern or southern hemisphere or educated or uneducated. So don't wait for too late to do the right thing. Whatever your past is, make 2013 a turning point. No one has an unfair advantage in terms of time available.
In the spiritual realm, the new year is pregnant with promises, opportunities and destiny. The future favours those that are courageous to take action. No matter how big or small your dream, God is ready according to your faith and action.
Some are looking for a room, cottage or full house to rent while others are looking for a house to buy. Some are planning to launch their companies and ministries in the region and rest of the world. Maybe your dream is to buy your first car whereas someone is planning to buy their child in high school a second car.
Whatever your dream, pursue it, don't be discouraged or intimidated neither should you be jealousy and bewitch others that are ahead of you, but rather learn from them.
Your choices shall shape the year for you. It is like an open cheque awaiting you to put the amount.
No one is preferred above the other. As long as you give your life to Christ and seek His ways, you will make it. Acts 10:34-35 clarifies: "Then Peter opened his mouth, and said, Of a truth I perceive that God is no respecter of persons: But in every nation he that feareth him, and worketh righteousness, is accepted with him."There is a place for you.
Don't look down upon yourself, step out and be counted. Put it in your heart, drill it in your mind and receive it in your spirit to positively use every moment and take every opportunity that is meant for you.
Let it be your desire to do everything better than the years before.
Separate yourself from the rest and execute in an excellent spirit. You have the backing of God if you decide to do well.
He wants you to have a good year. Jeremiah 29:11 assures you, "For I know the thoughts that I think toward you, saith the Lord, thoughts of peace, and not of evil, to give you an expected end." Isn't it refreshing to know that God is thinking of you? God neither slumbers nor sleeps therefore, He is thinking of you day and night.
Partake of the open invitation. Refuse mediocrity. Don't wait for too late, let not procrastination be part of you.
Study your past and do things differently. Use paths that lead to good results. On December 31 2012, let us all be celebrating and thanking God for a good year. Don't just sit, take action.
Even if you are not proactive and spend time crying and blaming others, you will still be one year older.
The one that decides to embark on a one year course and the other that thinks it is not time yet will both be one year older. The question is: Do you want to be older with something or nothing to your name?
Let the following words of wisdom stir you and get you to act. If you are of low self esteem, Betty Reese says: "If you think you are too small to be effective, you have never been in the dark with a mosquito."
If a mere mosquito can locate you, surely God knows you and you are not a second class being. Alan Cohen believes: "If you gave your inner genius as much credence as your inner critic, you would be light years ahead of where you now stand." Go out and manifest the glory of God.
According to Thomas Carlyle every woman and man has a coward and hero in her/his soul. Listen to the hero in you and grab your promise. Don't wait for extra time, use the allocated time wisely. Don't cry foul at the end of the year.
Grab the opportunity, you are going somewhere.
All Scripture quotations are from the King James Version of the Bible.
Follow Pastor Makarimayi on www.twitter.com/PEMAKARIMAYI and Facebook