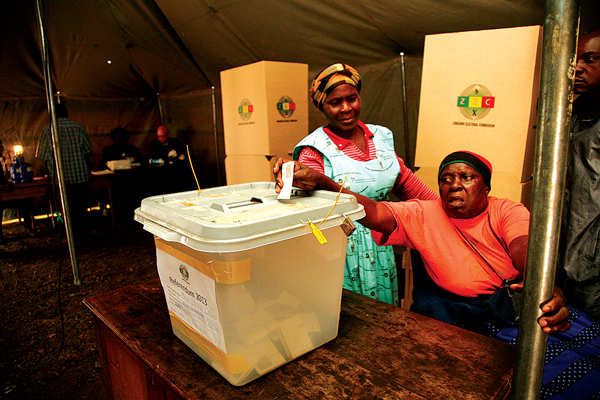 THE Crisis in Zimbabwe Coalition (CiCZ) has started lobbying the Sadc Organ on Politics, Defence and Security to intervene and order the Zimbabwe Electoral Commission (Zec) to abide by the regional bloc's election guidelines and ensure the country holds free, fair and credible elections next month.
By NQOBANI NDLOVU
CiCZ, which met the Sadc organ on May 30 at the regional bloc's headquarters in Botswana, said the initiative is part of efforts to push for credible July 30 polls.
In a statement, CiCZ claimed that its delegation met the Sadc organ's director, Tanki Mothae on May 30 and submitted a letter outlining civil society groups' demands.
The letter was also copied to Sadc executive secretary, Stergomena Lawrence Tax.
Part of the letter read: "That Zec conducts itself in a transparent, accountable, professional, non-partisan and autonomous manner in all electoral processes.
"That Zec, through its designated committees, and other concerned authorities, give unfettered access to key electoral processes to local, regional and international observers without undue restrictions such as imposition of prohibitive accreditation fees, criminalisation of domestic observers, or cherry picking of regional and international ones."
On Tuesday, the MDC Alliance took to the streets of Harare protesting Zec and President Emmerson Mnangagwa's failure to implement a number of reforms to guarantee free and fair elections.
But, Mnangagwa yesterday told the State media that he had signed into law the reforms relating to the Electoral Act, to level the playing field.
The CiCZ in its demands also called on Zec to avail "the biometric voters roll to all stakeholders particularly contesting political players and other election related bodies once it is ready and clear times for such provisions be shared and committed to".
"That Zec urgently avails a clear and precise 2018 election road-map to all stakeholders in line with the principle of transparency and accountability. That voter preferences take place without cohesion, manipulation or intimidation and the insulation of this choice through effective secrecy of the ballot."
Previous elections have been marred by reports of political violence and rigging perpetrated by Zanu PF activists.