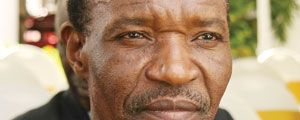 MDC founding member and former National Housing minister Fidelis Mhashu, who died on Monday at Parirenyatwa Group of Hospitals yesterday received a hero's send-off during his burial at Glen Forest Memorial Park in Harare.
BY KUDZAI MUCHENJEKWA
Mhashu, who suffered a stroke in 2014, had heart-related problems.
Speaking at the burial, MDC Alliance MP-elect for Zengeza West, Job Sikhala said Mhashu was a pillar of strength to many people in politics and his legacy will be forever cherished.
"He has been a pillar and a legend as far as issues of politics are concerned. These are people who started with opposition politics, before even the coming of MDC. He taught us what politics is. There is nothing that you can take away from the late icon, Fidelis Mhashu," Sikhala said.
Sikhala said MDC Alliance leader Nelson Chamisa had indicated that the Mhashu family must strive to maintain his legacy.
"President Nelson Chamisa said we must also continue with Mhashu's legacy and also the family must give us one of the family members to inherit a position Mhashu held in the party," Sikhala said.
Scores of MDC Alliance supporters who attended the burial expressed their gratitude for the role played by Mhashu in the fight for democracy and against the oppressive Zanu PF regime.
Other opposition leaders, among them Gift Chimanikire Cephas Makuyana and James Makore attended the burial.