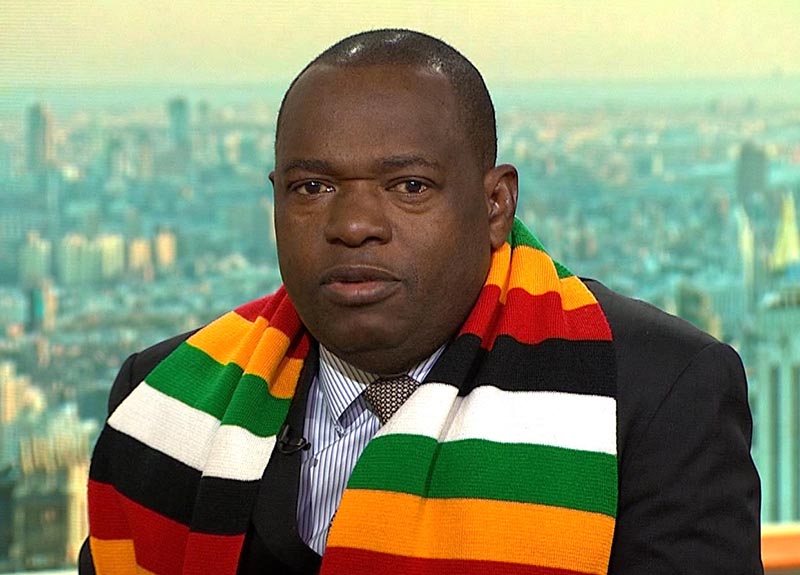 Following the recent scuffle involving Zimbabwe's Foreign Affairs minister Sibusiso Moyo's aides and MDC aligned Zimbabwean protesters in the United Kingdom, authorties in Harare are reportedly demanding the immediate deportation from the of some of MDC officials, accusing them of manhandling the minister during the heated confrontation, which was recorded in a video that has since gone viral.
In the video, a number of female protesters are heard ridiculing the minister verbally, and attempting to pour water on him and his delegation, as the entourage prepares to leave.
Moyo is immediately whisked into a car that speeds off and some of his aides remain behind.
It is unclear how the incident unfolded, but reliable sources said it all started when Moyo's security details physically attacked one of the female protesters who were demonstrating against human rights abuses at Chatham House, where Moyo was attending an ecvent as part of his tour of the UK early July.
"The protestors were only retaliating to the aide's provocation," said the source.
Zanu PF youths have since vowed to 'retaliate' by pushing for the deportation of MDC supporters, saying they violated the law, and they have reportedly asked the UK Home Office to identify and arrest all the demonstrators, most of who are in the UK on asylum, havhing fled Zimbabwe's volatile political situtation since the late 1990s.
According to sources, three women, among many others, are being targeted and being touted as organisers of the demonstration and these are, Mary Ndoro, Patricia Chinyoka and Chipo Parirenyatwa.
The list has caused an uproar among Zimbabweans in the UK, with some alleging that it includes some MDC members and civic society activists who were not even part of the demonstration at Chatham House.
"The ZANU-PF UK youths are picking those members whom they feel are a threat to their regime and they want them deported. Even though it's clear from the footage that most of the demonstrators who came close to the minister were women, there are several vibrant MDC men demonstrators and officials who have been mentioned in the even though they never attended the event," said a source.
Some of the names of people said to be on the list, but were not at the event include Oscar Muzamhindo, Tapera Chabata, Muchineripi Rwizi.
"They are being targeted merely for being vocal in their involvement in the fight for true change in Zimbabwe," said a source close to the MDC.
"Rwizi is a staunch MDC cadre in the UK Oxford branch and a human rights activist, together with Jemina Murira and Elizabeth Busumani, who are involved in fundraising towards the MDC activities.So, these people are of great interest to the Zanu PF security agents who wish to see them deported to Zimbabwe, where they will likely face persecution."
Oxford is a branch which is well-known for fundraising for MDC activities in Zimbabwe.