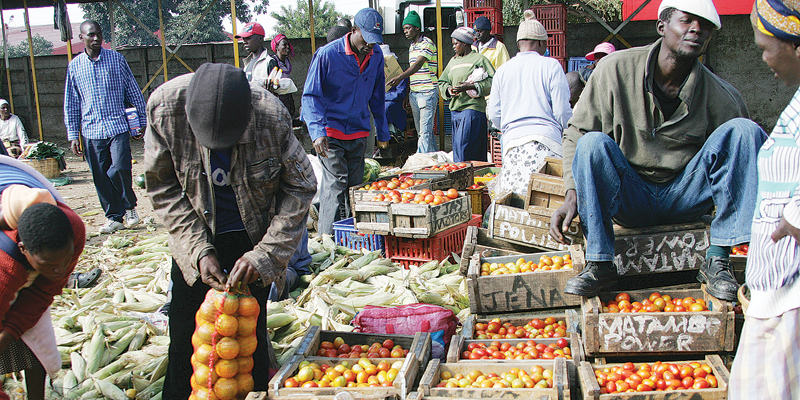 TENDAI Tozivepi (56) has been working at Siyaso, a popular and vibrant industrial site located in Mbare, Harare, for the past 20 years.
Tonderayi Matonho
He dreams of the day when Dema Growth point in Murehwa, where he lives, will also become an industrial hub.
A local farmer Mavis Makarutse from Murehwa also operates at Siyaso, where unscrupulous middlemen and women (Makoronyera), buy her farm produce for a song and resell it for a much higher figure.
"We have had enough of unscrupulous middlemen and women, and what we need is our own agro-processing business units established at Dema," Makarutse said in an interview.
Such is the daily life of a rural-based trader and business entrepreneur, drifting between the urban and rural economy, in search of a decent and stable livelihood.
Economic development experts have said that urban dwellers can also benefit from relocating to rural areas, quashing the time-worn and traditional trends of rural-urban migration.
The government has also recently short-listed a number of growth-points that will be upgraded to town-status.
Chikomba district, Mashonaland East Province, is set to become an industrial hub in steel production and Checheche Growth Point in Chimanimani, home of bio-fuel and ethanol industry, will also soon gain town status.
Murehwa Business Centre in Mashonaland East province, a farming community, will also soon be upgraded and further down south-west of the country, Lupane, reportedly with huge gas reserves, is also poised for town status.
Addressing journalists recently, Industry and Commerce minister Mike Bimha said  Essar Africa Holdings currently supporting the New Zimbabwe Steel in Kwekwe is expected to construct a 600 megawatt plant for a project and beneficiation plant in Chivhu, Chikomba district.
But can these prospective developments uplift the so-called backwaters of underdevelopment, rural areas?
In a bid to promote transformation and inclusive growth, the government through the Ministry of Finance and Economic Development, in partnership with the World Bank (WB), United Nations Development Programme (UNDP), Africa Development Bank and USAid/Sera, recently held a stakeholders workshop on the re-establishment of Special Economic Zones across the country with special regulations.
Vice-President Joice Mujuru recently said the government was "revisiting" policies and "revising" others in an attempt to revive the economy.
Andrew Yotamu, a university graduate, former schoolteacher and potato farmer in Shamva district, noted that such initiatives were welcome to contribute to national economic development.
"This is most welcome despite the scant interest shown by the authorities over the decades in what is, after all, a crucial sector which has largely been neglected in terms of up-scaling the rural economy.
"There is need to retain skills sometimes trapped in these economies or lost during the drift to the overcrowded and fast collapsing urban industries," Yotamu said.
According to  Zimbabwe National Statistics Agency (Zimstat) 2012 Census results, about 33% of the country's population lived in urban areas and that distribution of people by sector and land-use type showed that more than half of the population lived in communal land and resettlement areas.
Renowned economist and policy analyst, Vincent Musewe also agrees with the move to upgrade growth points.
"Zimbabwe's rural sector represents a lot of developmental opportunities in all sectors as it has been neglected for years.
We need to spread development, but this can only happen if we revive the agricultural sector and provide access to credit, infrastructure such as roads and information technology," he said.
He, however, noted that disposable income was very low making it difficult to realise much from such initiatives.
As far as he is concerned this drift could be a temporary economic response.
Joseph Sagwati, an economist based in Harare observed: "The expected rejuvenation of the growth points are a welcome development, but cognisance should be paid to matters around developing a more serious programme of action that correspond with activities at these centres.
"Actually, the planning process and the exploitative formula of the natural resources in the area should be inclusive and spell out a clear outline of the development activities both in terms of resource-use, duration as well as the speed of development," he said.
Sagwati said while Zvishavane, for example, is heavily endowed with asbestos, the town lies dormant because of political bickering and administrative intransigencies.
Several local and international investors should be allowed to spearhead these renewals through a more clarified indigenisation policy with zero tolerance to corruption.
"Low prices of food products is a relief for urban dwellers, but a cause of suffering to rural communities; upgraded growth points and centres are the only thing that will stop a low-income farmer from migrating to seek a theoretically better future in the largely over-crowded cities and towns," agro-economist, Crispen Sukume said.
In economic circles, there is general agreement that in rural areas, more business-oriented growth and the development of small agri-businesses, in particular, is a crucial driver of industrial growth, food security, and export expansion.
"Crafts, construction, agro-processing, horticulture and trade in inputs are other enterprises that can assist households earn a decent livelihood, thereby curtailing and absorbing a huge share of the exodus," Sukume said.
In Zimbabwe's major towns and cities, which are also expanding beyond recognition, unemployment is rife and the situation is desperate for many people.
A recent World Bank study noted that, agriculture is listed as one of the most promising sectors for youth employment.
However, the report warns that the demand for youth labour will not increase without a dynamic rural economy in both agriculture and non-farm sectors.
Chief executive officer for Nyanga Rural District Council, Zephenia Jaravaza noted that rural areas provide a lot of opportunities for rural industrialisation and there is need to resuscitate and revisit growth points and centres.
Abbie Mugugu-Mhene, director of Women and Land Resources for Eastern and Southern Africa said: "When city or town life becomes too difficult, people, particularly women, are quick and have a tendency to return to their villages. This usually happens during tobacco and cotton boom periods, for example".
Joseph Tasosa, director of the Zimbabwe National Environment Trust, a non-governmental organisation, said growth points should be developed first with fully functional water, electricity supplies and housing facilities as case studies and then spread the models country-wide.
"We have professionals and semi-professionals coming from Dema Growth Point in Seke, Murehwa Centre near the capital, and Watsomba Growth Point near Mutare city, for instance, these are all looking for business spaces and where to exhibit their skills.
"The government should then respond to these needs, develop models and review the development implications", said Tasosa, also adding that work places such as Siyaso in Mbare and similar others could be replicated in several rural economies.
Donald Chimanikire, a lecturer in the faculty of social studies at the University of Zimbabwe, also said in a recent interview that the development models of growth points and centres need re-evaluation and reassessment.
The government claims that through the Zimbabwe Agenda for Sustainable Social and Economic Transformation (ZimAsset), which urgently requires $27 billion, there is space for developing economic zones in the rural sector and the upgrading of growth points and centres which are initiatives that "stimulate the economy, achieve sustainable development and social equity anchored on indigenisation.
"It will largely be propelled by the judicious exploitation of the country's human and natural resources," notes one of the key statements in the document.
Addressing a workshop on Millenium Development Goals recently, UNDP economic adviser, Udo Tokudo said ZimAsset implementation needed wider co-operation to achieve its objectives.
Across the region, Zambia once attempted similar development models during the reign of the founding father President Kenneth Kaunda through a programme called "Back to the land".
However, success of the programme has been hard to measure with Zambian cities and towns still so congested as people still think that is where the best opportunities lie.
Tanzania, through former President Mwalimu Julius Nyerere, also tried a similar policy model through "Ujamaa" or "Villagisation" way back in the late 1960s and 1970s.
It was a dismal flop.
The World Bank predicts that on the African continent the number of people living in towns will equal those living in rural areas by 2030.
Yet, Tozivepi from Dema and many of his ilk in rural communities across the country are quite aware that it is better to live and work around your home area, far from the unhealthy life, corrupt and madding crowd of the city and towns.
However, for now, such opportunities are still far off, given government bureaucracy, yet they do show that when circumstances change in rural areas positively, people are willing to go back, relieved to escape the nightmarish life in towns and cities.