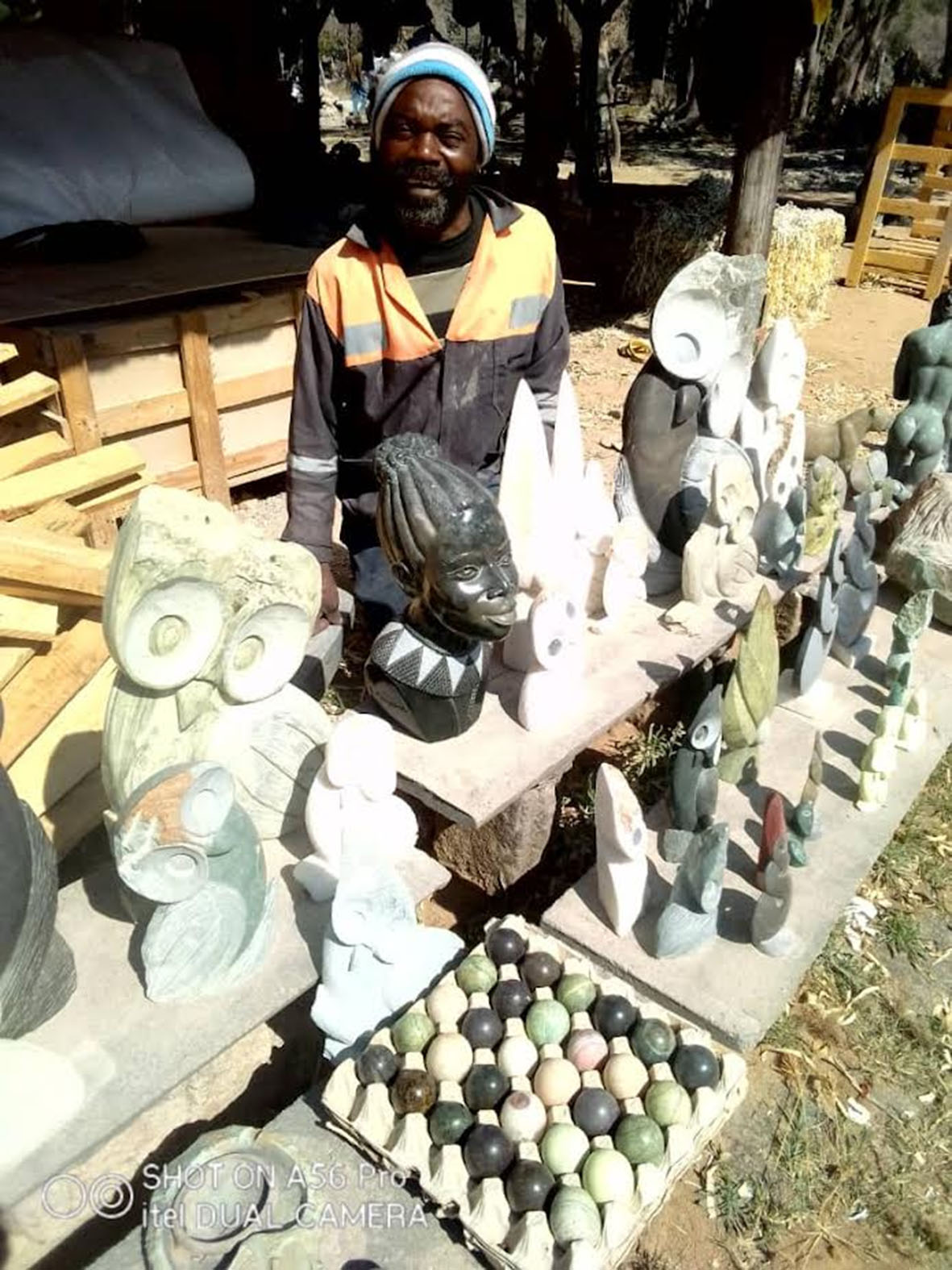 BY TENDAI SAUTA STONE sculptor Vika Ngwenya says visual art is a low hanging fruit for economic empowerment if well supported.
Ngwenya said he ventured into stone carving in 1975 after being taught by Andrew Mawema who used to teach sculpting to young boys from his Victoria Falls community.
He has now clocked over four decades in the sculpting industry and his artisanship for the animal kingdom has earned him global fame.
Notwithstanding that he walks with the aid of clutches since childhood due to late diagnosis and treatment of polio, the sculptor has defied odds.
His creations show intimate experience with the habit and habitats of the huge animals.
His artworks include, but are not limited to, models of elephants in various postures such as grazing, trumpeting and marching as a herd.
"The elephant signifies many things to me because it is the most sought-after animal by tourists and locals," he said.
"The elephant is one of the big five animals in the family that also include rhino, cheetah, lion and buffalo which I also carve on butter jade, green opal and cobalt stones."
Ngwenya indicated that stone sculpturing, which has been his source of income since 1975, has been his sole livelihood.
"The liberation war prohibited tourists to Victoria Falls and a close friend Shakespeare Chimonyo persuaded me to relocate to Chitungwiza in 1978 where it was safe to continue with my sculpting," he explained.
"I am now a grandfather and proud to state that all my life successes from getting married to raising five children with my only wife Sithembiso are attributed to his stone art."
Ngwenya has also committed to cultural restoration through carving kings and queens' heads.
"Traditional queens and kings looked at the community closely and protected orphans and the vulnerable. It is important to protect the less capable in society with capital and resources to start their own business enterprises," he said.
Ngwenya, however, bemoaned challenges such as transport to source for raw stone from mines, access to manual and electronic tools and scarce capital to open up markets.
"Our Chitungwiza Arts Centre Committee for Women and People Living with Disability needs to be fully resourced for it to be effective in helping these people to rise in their careers," he added.
Follow us on Twitter @NewsDayZimbabwe