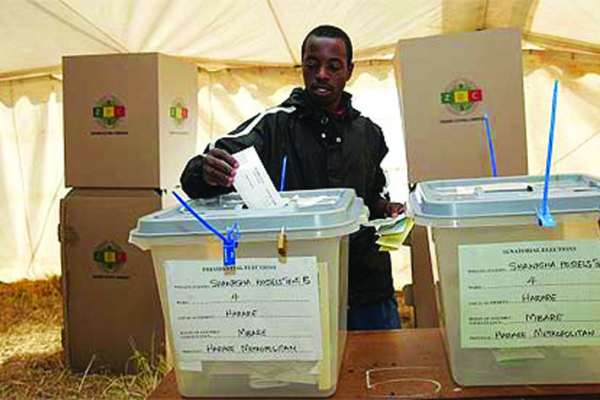 BY SILISIWE MABALEKA MATABELELAND South province villagers are perplexed over how Zanu PF continues to win elections in the province despite the area's glaring marginalisation.
The area continues to be a Zanu PF stronghold, with the ruling party winning 13 parliamentary seats during the 2018 elections.
Some villagers are now saying that there was no need to continue voting for the ruling party given the province's underdevelopment characterised by lack of bridges, schools, shortage of health infrastructure and lack of information communication technology connectivity.
The area has also experienced land invasions by people from Mashonaland regions.
A villager from ward 9 in Umzingwane district, who spoke on condition of anonymity, said: "People were delighted and thought that President Emmerson Mnangagwa would change things after the late former President Robert Mugabe was overthrown. People hoped that the ruling party would deliver and they gave it a second chance. Opposition representatives that participated in the 2018 elections were mostly based in South Africa and people opted for the Zanu PF candidates."
A villager from Kezi, Nomatter Moyo said: "No one in their right senses should be voting for the ruling party which has subjected people in the region to torture and gross violation of human rights. The elderly might still have faith in the ruling party, but the young people don't."
Villagers claimed that the province's constituencies were not benefiting from development funds channelled through Members of Parliament.
"The road network is poor, there are no schools and yet people continue voting for the ruling party," Moyo said.
A ward 5 villager said people in Simukwe were travelling a distance of about 50km to access health services at Brunerberg Clinic.
"Those in power have not been constructing clinics for us. We don't have internet and mobile connectivity," a villager added.
Zanu PF chairperson for Matabeleland South province, Mangaliso Ndlovu, who is also the Environment, Climate, Tourism and Hospitality minister said MPs in Matabeleland South should explain to villagers what they have done to improve their area.
"I can't speak on behalf of all the Zanu PF MPs, but they should state the things they have done to improve their area. I will respond about my area later," Ndlovu said.