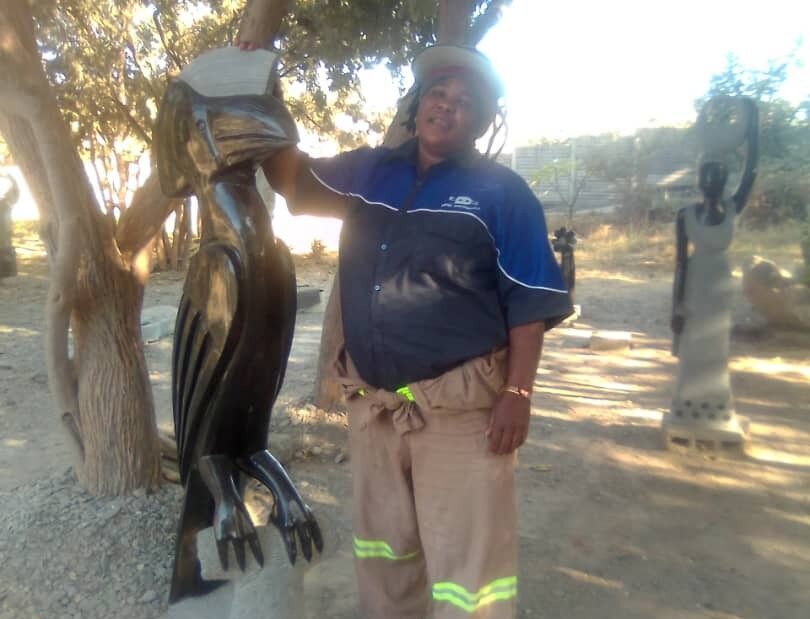 BY TENDAI SAUTA THE hornbill is a bird commonly found in Zimbabwe's arid regions and is an embodiment of motherly love because the bird has a tendency of keeping a close eye on its young ones.
And sculptor Chango Chitoko has managed to artfully bring out the hornbill's motherly characteristics  in her works predominantly made out of springstone, dolomite and green opal which has wowed local and international buyers. Her display garden showcases various household chores carried out by women such as baby care, fetching water, feeding the family and teaching.
Chikoto is often disruptive in her carvings as she often articulates the hard to say social issues and one such sculpture is the hornbill which she uses to pitch on so many things about family life. NewsDay Life & Style had a chat with Chikoyo.
Chikoto's rural and urban background greatly influenced her creative responses. The most highly visible is an abstract hornbill family which has several birds in swing and mounting position or as a family cluster.
Said Chikoto: "Mothers throughout the world carry the role of child-keeping, among other household and industrial duties. The water crisis is now causing serious difficulties in urban set-ups and women often face problems pumping boreholes and carrying the water back to their homes. I carved women carrying luggage and water buckets just to beg collective insight from both men and women.
"The hornbill bird keeps a watchful eye on its young ones either at play or feeding. The mother even checks on the family before resting or sleeping. The bird migrates up and down the sides of Zambezi River and tourists love to see this amazing creature.
"Feeding spaces are important too and that's why I carved these bird baths which helps in luring birds to homes and several places where nature is preserved for the purposes of human and animal relaxation."
The hunt for huge stones for her sculptures has made her tour several rural places such as Mvurwi, Shamva, Karoi and Mutoko, among others. Smooth finishes and polishes with very minimum attention to detail makes her artworks preferred for outdoor displays.
"I prefer abstract carvings in order to allow people to take time to admire art and come up with their own understanding of their artworks," she explained.
Chitungwiza Arts Centre is the cradle of many artists which include but are not limited to visual artists, theatre, dance and music, filmmakers, crafts and martial arts. The centre, which is currently undergoing a facelift, could emerge as one of the best tourist attractions in the not so distant future.
Follow us on Twitter@NewsdayZimbabwe