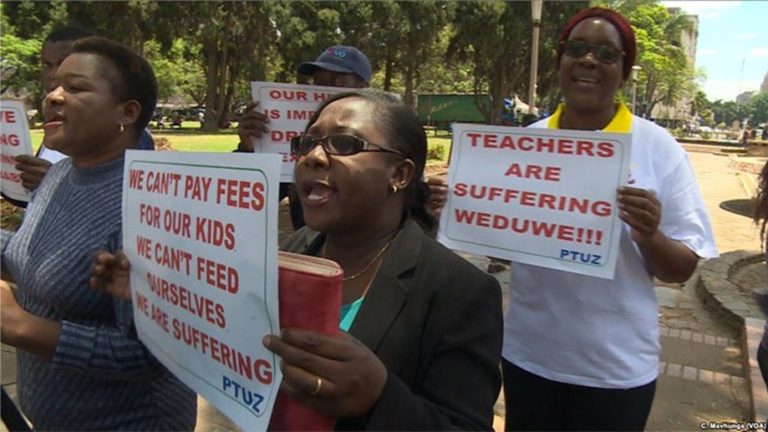 BY PRIVELEDGE GUMBODETE THE Amalgamated Rural Teachers Union of Zimbabwe (Artuz) has said it is ready to engage government in genuine dialogue to solve the current wage deadlock.
In a statement on Wednesday, Artuz said a hardline approach against educators would not yield a win-win situation, but would prolong the crisis and remove any room for dialogue.
"The situation in education is deteriorating at an alarming rate and it is the innocent learner who is most affected. Educators are victimised, threatened, arbitrarily arrested, suspended and expelled unilaterally," Artuz said.
"The education crisis cannot be resolved through threats, suspensions and expulsions, but by genuine dialogue premised on the restoration of the pre-October US$540 salary.
The Public Service Commission has suspended 1 500 teachers and 50 school heads for not reporting for duty citing incapacitation.
The educators have approached the courts for redress.
Artuz accused government of using the divide and rule tactic to continue underpaying workers.
"It is observed that other teachers are being used as pawns in investigating their counterparts in an unprocedural process meant to suspend and expel teachers, school heads," the union said.
"All districts held a jamba style meeting where heads of schools were instructed to identify problem teachers and suspend them through a circus code-named an investigation. The head is cornered and pressured to expedite the process."
Government last month offered to increase all civil servants' salaries by 20% and pay each employee an additional US$100 per month.
However, unions have rejected the offer and insisted on pre-October 2018 salary of US$540.
Follow us on Twitter@NewsDayZimbabwe
Related Topics