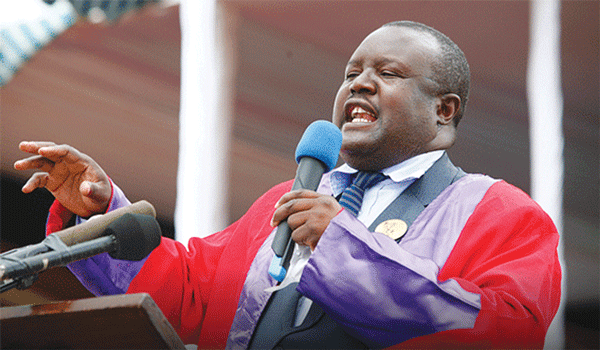 BY METHEMBE SIBANDA CHIEFS drawn from southern Africa yesterday said poverty was the main cause of early child marriages and teenage pregnancies, hence the need to empower the girl child.
President of the Chiefs Council, Fortune Charumbira told a regional traditional leaders indaba in Harare that Zimbabwe was battling against the same problem. The meeting was attended by other chiefs from Tanzania, Malawi, Mozambique, Zambia and Ethiopia.
The meeting, which was organised by Plan International was designed to mobilise traditional leaders to address and end early child marriages in Africa.
"It is important that as stakeholders here gathered, we come up with solutions that address related issues such as female genital mutilation, teenage pregnancies and more importantly poverty," Charumbira said.
"I know there are some who blame culture and tradition when it comes to child marriages, however we should not ignore the contribution of poverty to this scourge. Because of poverty, some parents have been marrying off their children at a tender age for the bride price payment. Sadly, such unions usually result in the disruption of education and increase the girl's vulnerability to abuse, discrimination and gender-based violence" he said.
Charumbira said the institution of marriage was from a cultural perspective a preserve of the mature.
Malawian chief Ida Deleza said she ended a lot of child marriages in her country, resulting in about 205 girls going back to school.
"This workshop should be a final call to end child marriages. We have to ensure our girls are not trapped into early marriages because of poverty. In Malawi, I have been preaching about ending child marriages. About 205 girls have left their marriages and gone back to school, which is a positive move. We have to ensure that we not only end child marriages, but take the children back to school," chief Deleza said.
Zambian chief Hakawaya Justin Chilufya said since the beginning of the programme, Zambia has seen a major decrease in child marriages.
"Child marriages numbers are dropping in Zimbabwe. We are hoping that by 2030 we reach an 80% decrease. We now believe in educating girls — teach a girl and you educate the whole country," he said.
First Centre of Excellence on Ending Child Marriages for the Middle East, Eastern and Southern Africa regional programmes manager Lynn Chinene said children needed to be taught about laws that protect them against early child marriages.
"This project has been targeting traditional leaders as they are the custodians of culture and tradition to stop retrogressive social norms that push for child marriages. Children have to be children and not brides at a young age," Chinene said.
She said an evaluation was underway on the impact of the programme to end child marriages since the beginning of this year.
Follow us on Twitter@NewsDayZimbabwe
Related Topics