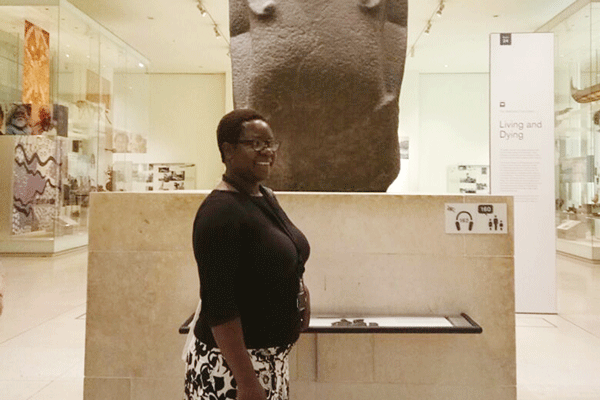 BY AGATHA CHUMA/NOMALANGA KABANZI THE NATIONAL Gallery of Zimbabwe (NGZ) has dedicated space for female visual artists to showcase their artefacts at the gallery as part of the commemorations of International Women's Day.
International Women's Day is observed annually around the globe on March 8 to commemorate the cultural, political and socio-economic achievements of women.
Speaking at the launch of #BreakTheBias exhibition on Tuesday, curator and NGZ deputy director Fadzai Veronica Muchemwa said female artists often faced bias in their areas of practice, adding that the exhibition was a tribute and celebration of the hard work women do.
"Knowing that bias exists and acknowledging it isn't enough. We all need to take corrective action to break the bias, not just today, but every single day. Collectively, everyone can make a difference by taking concrete action to help build a more gender-equal world from small, influential grassroots gatherings to large scale conferences," she said.
"To the industry that I work in, I have often heard that there are no female artists in Zimbabwe and that women cultural workers need handholding. Gender bias has a massive implication for women in the arts."
She added: "Such selection is deliberate, some of the artists in this #BreakTheBias exhibition are not often shown and some are often overlooked even though they are highly skilled. Painting and printmaking are considered masculine disciplines, but in this segment of the gallery which shows women's work, you find that there are paintings of women too and other wonderful designs."
Muchemwa said failure to recognise female aptitudes could not be attributed to lack of talent, but systematic discrimination.
"After examining the results of even a few of the women selected for this exhibition, we should be asking why are not all history's great women artists recognised, admired, celebrated and reported on," she said.
"As the NGZ, we have launched this exhibition to show you the artistic nature of our women."
Speaking at the same event, the Irish ambassador to Zimbabwe, Fionnuala Gilsenan said as the world celebrated International Women's Day, their creative side should be seen and appreciated.
"This fantastic gallery has many pieces of women's work which have been put together over the decades and now that they are displayed, people get to see and appreciate their talent," she said.
"When people come to Harare, they must see and be reminded that women are doing a great job practising wonderful art and being creative."
One of the exhibitors, Tarisai Gwenje, a fashion designer, said what the gallery had done was great for women, adding that once women were recognised and celebrated, they tended to develop their skills and it also gave them energy to continue in creating good designs.
Follow us on Twitter @NewsDayZimbabwe
Related Topics