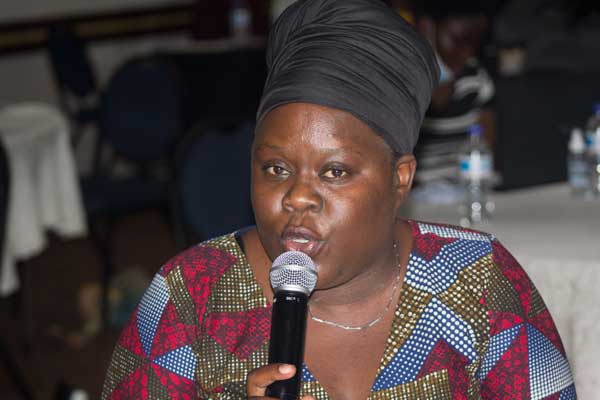 BY EVANS MATHANDA ELECTORAL watchdogs and women's rights groups have cited cyberbullying as a major factor discouraging women from actively participating in politics.
Addressing delegates at the Institute for Young Women's Development (IYWD) election sensitisation workshop in Harare, Zimbabwe Election Support Network (Zesn) programmes director Ellen Dingani said female politicians had experienced cyberbullying on Twitter.
"Zimbabweans have made Twitter toxic and cyberbullying on Twitter is another form of violence that is now a major threat to women's participation in politics," Dingani said.
🔴#New #TalkingPaper"𝐙𝐢𝐦𝐛𝐚𝐛𝐰𝐞𝐚𝐧𝐬 𝐡𝐚𝐯𝐞 𝐦𝐚𝐝𝐞 𝐓𝐰𝐢𝐭𝐭𝐞𝐫 𝐭𝐨𝐱𝐢𝐜 𝐚𝐧𝐝 𝐜𝐲𝐛𝐞𝐫𝐛𝐮𝐥𝐥𝐲𝐢𝐧𝐠 𝐨𝐧 𝐓𝐰𝐢𝐭𝐭𝐞𝐫 𝐢𝐬 𝐚𝐧𝐨𝐭𝐡𝐞𝐫 𝐟𝐨𝐫𝐦 𝐨𝐟 𝐯𝐢𝐨𝐥𝐞𝐧𝐜𝐞 ,"- @ZESN1 𝐩𝐫𝐨𝐠𝐫𝐚𝐦𝐦𝐞𝐬 𝐝𝐢𝐫𝐞𝐜𝐭𝐨𝐫 𝐄𝐥𝐥𝐞𝐧 𝐃𝐢𝐧𝐠𝐚𝐧𝐢. pic.twitter.com/AHTbbc3V0c

— NewsDay Zimbabwe (@NewsDayZimbabwe) March 24, 2022
"Body shaming and exposing one's private life is rampant on Twitter to intimidate women who want to contest as new candidates, making it difficult for them to participate in politics and decision-making processes," she said.
On December 3, 2021, Zimbabwe enacted the Data Protection Act, to curb cybercrimes.
President of the Labour Economists and African Democrats (Lead) party, Linda Masarira told NewsDay that she was also a victim of cyberbullying.
"Twitter regulations are clear that anyone who violates its rules will be suspended and Twitter has suspended a lot of accounts, but the challenge some people bully people in Shona or Ndebele and other vernacular languages which Twitter cannot deal with," Masarira said.
"I am a victim of political violence on Twitter where I have been body shamed by people. I think it is now up to Twitter to come up with a system that captures abuse of people in all languages because Twitter is for everyone."
Despite the restrictive socio-economic and political context, the commitment by young women to exercise their agency and transform their lives and their communities provides opportunities to challenge status quo. #VoteRunLeadReloaded pic.twitter.com/Q43ZkU5LfE

— Young Women (@YoungWomenInst) March 22, 2022
In a statement, Women's Academy for Political Leadership and Excellence, (Walpe) the emergence of social media has generally provided women particularly aspiring women leaders with an alternative space to have their voice heard real time.
"As WALPE we feel the advent of social media, facebook and twitter has done more good than bad to women leaders in Zimbabwe. In as much as they are challenges of cyber bullying, revenge pornography and online violence are also being recorded which discourages other women from utilizing the space. We feel more needs to be done by both Government and citizens to guarantee the safety of women on online spaces. The cyber law must be explicit on penalties for those who harass women online including clear protection provisions for women in politics like what was done in South Africa. Citizens themselves must be responsible and desist from attacking and discrediting women online.." Walpe said.
 Follow Evans on Twitter @EvansMathanda19
Related Topics