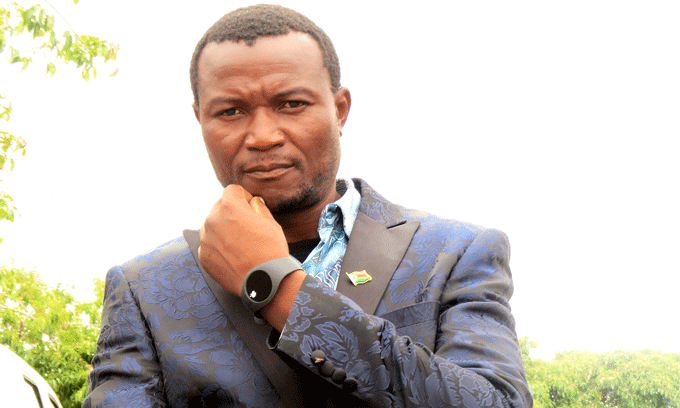 BY TAFADZWA KACHIKO
MAQUILLAGE contributes a lot to video and film production, yet make-up artists are not recognised much or even rewarded for the role they play. Maybe it is because they mainly work behind the scenes though they are the ones who give that much-needed facial appearance.
A local male make-up artist Matthias "Sir Jacks" Jack is doing wonders in the showbiz industry, having worked with a number of productions. Sir Jacks has done VFX make-up for most movies that premiered last year, among them The Story of Mbuya Nehanda, Poor Cousins, House of Stone and Tozeza Baba. NewsDay Weekender caught up with Sir Jacks who shared his journey as a make-up artist.
Self-introduction
"I am a multi-talented father of four, two boys and two girls. I am known as Sir Jacks in the film industry. I thank God for giving me a rare talent in VFX make-up (the process of using prosthetics, sculpting, mouldings, casting, body painting, hair and costume to make an actor transform into a character for a production.)
"Apart from just being a make-up artist I am also an actor, electrician, production manager and I am capable of doing many other works.
Make-up definition
"Make-up is the art of changing a person's appearance, especially facial and hair. It was pioneered long back in the 18th century and it was first used in films such as Panchromatic, Max Factor and a few others.
"Pioneers of the make-up industry developed the yellow-orange type of make-up with a light pinkish tone and graduated to a deep brownish orange.
"Some people would put on make-up to portray a character in a theatre play or film production. Queens would put on make-up to add beauty.
Make-up in film, television production
"You cannot do an action film or horror without a VFX (visual effects) make-up artist. Even on sitcoms and television appearances, you need make-up so that you won't look too shiny or dull on camera.
"When shooting an epic film, you need a make-up artist to create those epic looks and characters. So, make-up is necessary to create those characters for life.
The beginning
"This journey started in 2016 when we were shooting a sci-fi film, Amalgamated: The Dawn of Legends. This was after the make-up artist did not show up to do the job. Since I used to see her doing it on set, it was never difficult for me as I am also a fast learner. Later on, I enrolled at Proverbial Media Production, where I was taught level one of basic film make-up.
Family's reaction
"When I bought my first make-up kit in 2017, that did not go well with my wife. She thought I was wasting money. I am glad that she now understands that it's my other profession. Right now, I am doing level two VFX make-up and she is very supportive.
Balancing with other jobs
"I don't have challenges when it comes to balancing being a make-up artist and an electrical engineer because I work with a team. So, at times I delegate.
Female dominance
"Yes, it's a female-dominated field, but make-up is not for females only. It is an art for everyone. At first people could not believe that I could do make-up, so they preferred females. I, therefore, did not specialise in beauty make-up, but I concentrated on VFX make-up which is an art of making fake wounds, cuts, bruises and stage blood.
Field requirements
"One needs to be enrolled at a make-up academy to become a professional make-up artist.
About mess-up
"That is when you put on colours that do not match your skin tone or poorly applying make-up.
Of lightening creams
"Lightening creams are part of make-up, but they are dangerous. Their side effects can be permanent. I, therefore, don't encourage people to bleach their skins.
Remuneration
"Make-up artists don't earn fixed amounts. They get paid according to the budget of a particular production and the complexity of the make-up.
Recognition
"It is very unfortunate that there are no awards that recognise make-up artists despite their noticeable contribution during the production processes. They contribute a greater part in film making.
"I, however, celebrate when I see the cast I did make-up on scooping awards. That makes me feel great. I, however, hope and pray that someday make-up artists will be remembered and there will be awards for make-up artists.
Developments in make-up
"Production houses and script writers now acknowledge that we have talented make-up artists locally who can do all types of make-up. So now people are venturing into war movies, horror and action movies.
"Such films are Gonarezhou, House of Stone, Sons of McGregor, The Lamp and Murindagomo.
Off film industry lagging behind
"Despite good make-up artists around the country, the film industry still lags behind. I think it is due to lack of funds and partnerships. The other challenge is the mentality of other people. They think that we are still in the drama era.
Productions
"My latest project is Freeman's Robbery music video. To date, I have worked on a total of 28 productions that include local and international.
"Four of the productions — Story of Nehanda, House of Stone, Tozeza Baba and Poor Cousins — premiered last year at Ster Kinekor cinemas.
"Gonarezhou, a 2020 production, won a lot of awards including Best Narrative Feature Film. Some have won awards, some have premiered and some are still on hard drives. Other musicians I have worked with are Tammy Moyo, Albert Nyathi, Clive Malunga, Fungisai Zvakavapano-Mashavave and Alexio Kawara, just to mention a few. In film, I have worked with three quarters of the production houses in Harare and have travelled a lot on duty.
Production ratings
"I did my best on Gonarezhou, a film that has won several accolades and on the Story of Mbuya Nehanda. When I did the make-up for the films, I had all the needed resources.
"I always make sure that I do my best, whether on a musical video, a high or low budget film. On Gonarezhou I created the poachers and did a lot of fake wounds on both humans and dummy animals.
"On the Story of Mbuya Nehanda, we created an 1896 setting and I transformed lead actress Eunice Tava to look like Mbuya Nehanda. I did my own make-up with the aid of my assistant to look like Sekuru Kaguvi. I looked similar to that famous picture of Kaguvi in history books. It was not easy, but we made it.
Challenges
"My greatest challenge is that most of the materials and ingredients that I work with are not locally available. Also, due to limited budgets for make-up in productions, I end up using cheap products which are difficult to work with. My job is made easy and exciting when I work on a well-planned and funded production.
Association
"I don't know any. As of now, make-up artists are mainly under associations in the film industry, But I feel that we need to come up with our own association or board to represent our concerns."
Recommendations
"My message to aspiring make-up artists is that don't hesitate, join the field and follow your dream. You need to discover and nurture the talent in you.  Practice makes perfect."
Follow us on Twitter @NewsDayZimbabwe
Related Topics