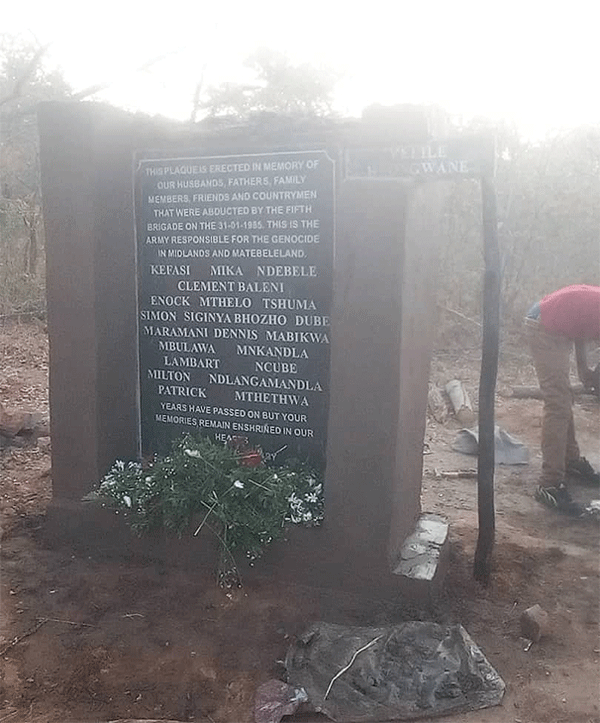 BY SILAS NKALA
THE second Gukurahundi memorial plaque erected on Sunday at a site where 12 Silobela villagers were killed during the State-sanctionned massacres has reportedly been vandalised.
The plague had been mounted by Bulawayo-based pressure group, Ibhetshu LikaZulu.
According to Ibhetshu LikaZulu secretary-general Mbuso Fuzwayo, the plague was stolen on Tuesday night.
"We installed the plaque on Sunday and the event went well, but unfortunately the plaque has again been stolen," Fuzwayo said.
"We erected it on Sunday on the International Day of Enforced Disappearances. This clearly shows that everything that the government purports to be doing to address Gukurahundi is not sincere. There is no commitment to take responsibility on the Gukurahundi genocide. We will consult the people on what they want done."
This is not the first time the plague has been stolen. Another plaque erected by the lobby group in May was stolen. A plague at Bhalagwe Gukurahundi mass graves in Kezi was also stolen in June.
The group said it suspected State security agents as being behind the acts and questioned President Emmerson Mnangagwa's administration's sincerity in resolving the thorny issue.
Mnangagwa recently met traditional chiefs from Matabeleland and Midlands provinces in what Information secretary Ndavaningi Mangwana said was a quest for a long lasting solution to the 1980s massacres that claimed over 20 000 lives, according to the Catholic Commission for Justice and Peace in Zimbabwe.
Fuzwayo said the lobby group would replace the plaques regardless of the resistance from the suspected State security agents.
"There is no seriousness on the part of the government because if they destroy those plaques, can they then be able to make it (Gukurahundi) part of our history that can be taught in schools?" he said.
He added that they intended to install five plaques at Gukurahundi mass graves in Matabeleland North, South and Midlands before year-end, including the replacement of the two which were vandalised at Bhalagwe and Silobela.
Fuzwayo said one plaque costs US$850 and the pressure group would need US$4 250 for the five.
Follow Silas on Twitter @silasnkala