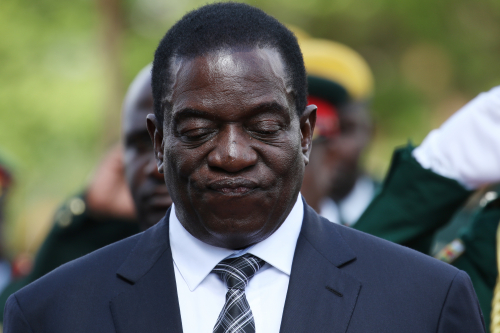 BY MOSES MATENGA
PRESIDENT Emmerson Mnangagwa yesterday said Zimbabwe was geared to prosper with or without support from the West that imposed sanctions on the country, adding that China remains there to assist.
Mnangagwa was speaking during a tour of the US$153 million Robert Gabriel Mugabe International Airport expansion project where he said the coming on board of international airlines such as Qatar Airways was testimony of his government's commitment to opening airspace.
The project will add a new international terminal building and aprons, four new bridges, secondary radar system, VVIP pavilion and airfield ground lighting as well as communication systems.
"The coming on board of Qatar Airways is testament of my government's commitment to achieve economic growth through the opening up of the airspace," Mnangagwa said.
"If you look at this infrastructure, you cannot think this country is under sanctions. We will continue to develop our country; a country is built by its owners, and that is what we are doing."
Zimbabwe has been under Western sanctions for the past 20 years over the deteriorating human rights situation.
When Mnangagwa took over from the late President Robert Mugabe in a November 2017 coup, he said sanctions could hold back the development of the country, blaming the Mugabe regime, where he worked as Vice-President, of hiding behind sanctions to cover up its failures.
But a year after he took over power, he started blaming sanctions for the lack of development in the country, dragging Sadc and the African Union to lobby for the removal of the restrictions.
Mnangagwa yesterday said the "unwavering" support from China remains a show of confidence in Zimbabwe's economic development trajectory.
"We are not worried about those who get angry because China has helped us. We will continue to develop our country," Mnangagwa said.
The civil works at the airport are being undertaken by China Jiangsu International and is expected to be complete by June 2022.
The project started in 2018 and is expected to increase the airport's holding capacity to six million passengers per annum from the current 2,5 million, according to the government.
 Follow Moses on Twitter Moses @mmatenga