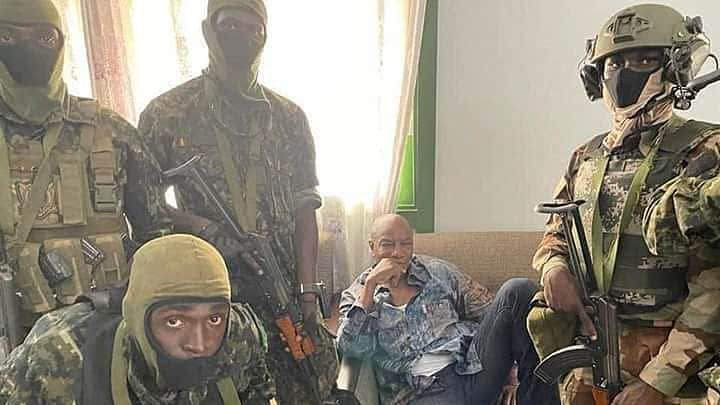 A group of soldiers who ousted Guinea's President Alpha Condé from power on Sunday have ordered the country's cabinet to attend a mandatory meeting on Monday.
Those who refuse to attend the 11:00 GMT meeting will be considered rebels, a statement on state TV said.
President Condé remains in detention, but his fate is unclear.
The UN, African Union, and regional body Ecowas have condemned the coup and called for a return to civilian rule.
"I strongly condemn any takeover of the government by force of the gun and call for the immediate release of President Alpha Conde," the UN secretary-general António Guterres tweeted.
After hours of gunfire on Sunday, the streets of the capital, Conakry are reported to be quiet but it remains unclear if the entire military backs the coup.
In a broadcast on state TV on Sunday night, a group of soldiers announced the dissolution of the constitution, the closure of the borders and a nationwide curfew. They said regional governors had been replaced by military commanders, and the ousted 83-year-old president was safe but in detention.
The head of the country's special forces, Col Mamady Doumbouya, said his soldiers had seized power because they want to end rampant corruption and mismanagement.
President Condé was re-elected for a controversial third term in office amid violent protests last year.
The veteran opposition leader was first elected in 2010 in the country's first democratic transfer of power. Despite overseeing some economic progress, he has since been accused of presiding over numerous human rights abuses and harassment of his critics.
Hundreds of residents poured into the streets of Conakry to celebrate the takeover, climbing onto military vehicles to greet soldiers draped with Guinean flags.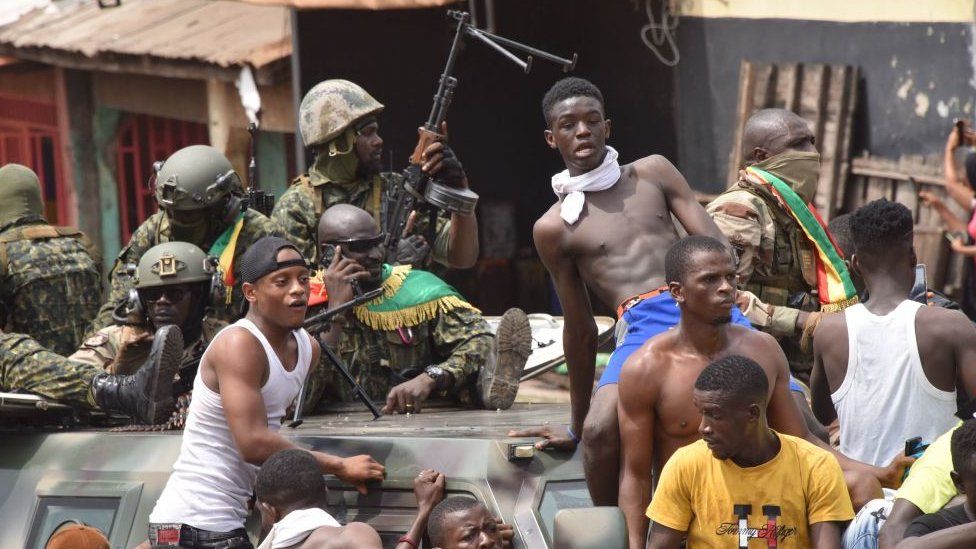 Mamoudou Nagnalen Barry, a founding member of the opposition FNDC (National Front for the Defence of the Constitution), told the BBC that he had mixed emotions about the coup, but he mostly welcomed it.
"I will say that I'm sadly happy with what happened," he said.
"We don't want to be happy with a coup but in certain circumstances like that one in Guinea now we will say we are really happy with what is happening because without that, the country will be stuck in an endless power of one person who wants to stay in power forever."
Mr Barry added that he hoped the soldiers will hand power back to civilians.
In their televised announcement, the so-called National Committee for Reconciliation and Development made all the right noises.
For those frustrated by last year's constitutional change that allowed President Alpha Condé to run for a third term, news that the constitution would now be scrapped and replaced in consultation with the public has been warmly welcomed. 
But military juntas are notoriously fickle. With no-one to hold them to account, there's no guarantee they'll deliver on their promises.
There are also those who worry that this latest coup is further evidence of a gradual degradation of democratic values in the region.
It's the fourth attempted coup in West Africa in just over a year. There have been two military takeovers in Mali and a failed attempt in Niger since August 2020.
Contested constitutional amendments in Guinea and the Ivory Coast, a region that had been celebrated for a number of peaceful transitions of power in the 1990s and early 2000s, appears to be regressing.
Ultimately those who'll pay the price for the erosion of democratic institutions are ordinary West Africans, left without the protections these institutions were meant to provide.- BBC