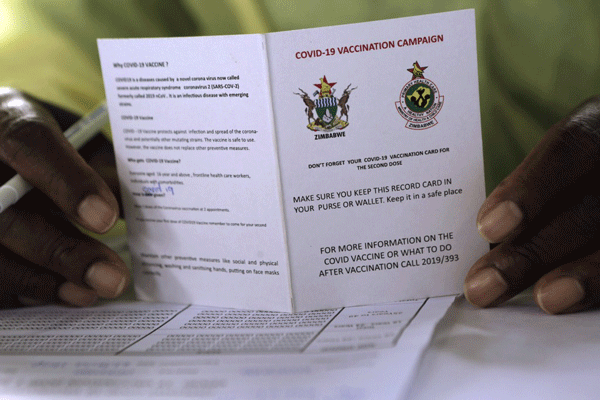 BY AMOS BATISAYI
Taking a cue from government, several companies in Zimbabwe are making proof of vaccination a prerequisite for employees to enter their premises in a bid to curb the spread of the novel virus.
Among the companies that have made it mandatory for their employees to be vaccinated for COVID-19 are N Richards Group, Zimnat Insurance Company, the Zimbabwe National Road Administration (Zinara), TelOne (Private) Limited, Windmill Limited, and Seed Co Zimbabwe.
Companies such as SeedCo have even extended their vaccination drive to journalists.
This comes at a time when the country has been experiencing a high number of deaths due to the third wave of the virus, and is likely to be hit by a fourth wave, which health experts predict might strike at the end of the year.
As of Monday this week, a total of 1 254 206 people had received both doses of the vaccines.
In a memorandum shown to NewsDay yesterday, N Richards Group (NRG) director Mike Yeatman ordered all workers and merchandisers to be vaccinated.
"With the current COVID-19 situation in the country, we feel it is only reasonable that we play our role in encouraging all service providers and merchandisers who work in, and alongside the N Richards Group to get vaccinated," Yeatman said.
"We appeal to all partners to seriously consider ensuring that external staff working in NRG branches is vaccinated. Accordingly, the group has taken the decision that it will not permit entry of unvaccinated staff after 30 September 2021.
"To this end, please note that from October 1, 2021 vaccination certificates will be required to be produced upon entry."
Recently, TelOne (Private) Limited issued a notice informing its workers that those that were not vaccinated would be required to stay at home.
The forced vaccination of employees recently caused the Zimbabwe Congress of Trade Unions (ZCTU) to approach the High Court seeking an order barring companies from demanding COVID-19 compulsory vaccination of workers.
ZCTU cited Public Service minister Paul Mavima, Attorney-General Prince Machaya, Zimnat Insurance Company, Zinara, TelOne (Private) Limited, Windmill Limited, Seed Co Zimbabwe and the Manicaland State University of Applied Sciences (MSUAS) as respondents.
"There is no law in Zimbabwe making vaccination compulsory. Each person, having fully considered the implications and effects of vaccination, is expected to make a personal decision on whether or not to get vaccinated and where a person decides to get vaccinated, he or she is expected to make a decision relating to the timing of the vaccination.
"It is on this basis … that the applicant is contending that the aforementioned employers are taking the law into their own hands … in the process they are infringing the fundamental rights of the affected employees," ZCTU secretary-general Japhet Moyo said in an affidavit in the High Court.
Moyo further argued that the companies' actions were an  attack on the dignity of unvaccinated workers and constituted stigmatisation.
Follow us on Twitter @NewsDayZimbabwe