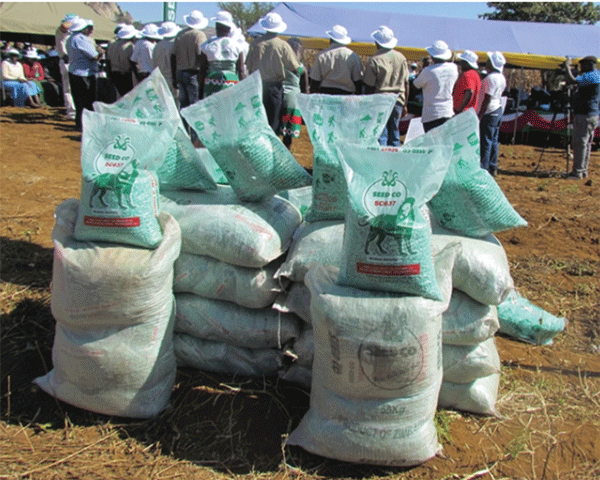 BY SHAME MAKOSHORI
HYBRID seed production giant, Seed Co Limited is set to bolster its African expansion plan through State-backed food security interventions in Malawi and Zimbabwe, where it sees growth opportunities unravelling as Harare braces for landmark polls in 2023.
Poll time has traditionally unlocked market opportunities for the firm that has made aggressive forays in Africa, although Zimbabwe has sometimes struggled to service its debts incurred as politicians stampeded to constituencies to plead for fresh mandates.
In a commentary to results for the year ended March 31, 2021, chief executive officer Morgan Nzwere said Harare's polls and refreshed efforts in Malawi to rave up food security interventions would anchor the listed group's growth plan in 2022.
"The artificial seed drying plant was successfully completed at Stapleford in Zimbabwe," Nzwere said.
"The plan is to replicate the technology in other markets. The completion of the seed drier should enable us to bring seed to the market much quicker and also continue to improve seed quality. Subject to favourable climate and economic conditions, Seed Co is expected to ride on the good performance achieved in the just ended financial year on the back of the anticipated continuation of government programmes ahead of 2023 elections. New seed processing and packaging plant (was) commissioned in Nigeria. Plant capacity upgrades in Kenya and Tanzania planned this FY21/22 financial year. Seed processing has started in both Zimbabwe and some regional markets as seed is being delivered. Zimbabwe annual sales volumes were 61% ahead of prior year, driven by good rains and huge government food security programmes (and) open market sales buoyed by better rains. The group experienced stock outs due to the unanticipated demand," Nzwere said.
The Pan African seed outfit returned to profit during the year ended March 31, 2021, pushing inflation adjusted post-tax profit by 300% to $800 million following a $400 million loss during the comparable period in 2020 as demand spiked across Africa in tandem with a good rainfall season.
With markets flooding Seed Co outlets to stock up and plant enough to ensure food security in case another climate change-induced drought scourge returns, the giant lifted revenues 60% to $5,8 billion during the review period as volumes surged 36%, giving it impetus to complete the seed drying plant in Zimbabwe and extend its capital investment into other economies.
Seed Co had reported $3,7 billion revenue previously.
Nzwere spoke on how Seed Co scaled up its community interventions in Zimbabwe after launching a campaign to vaccinate 2 500 residents at a farm community at Stapleford near Harare.
Residents of the Mandebvu community hailed the firm for the gesture, which came as Zimbabwe witnessed a spike in new cases and deaths caused by COVID-19.
Follow Shame on Twitter @ShameMakoshori