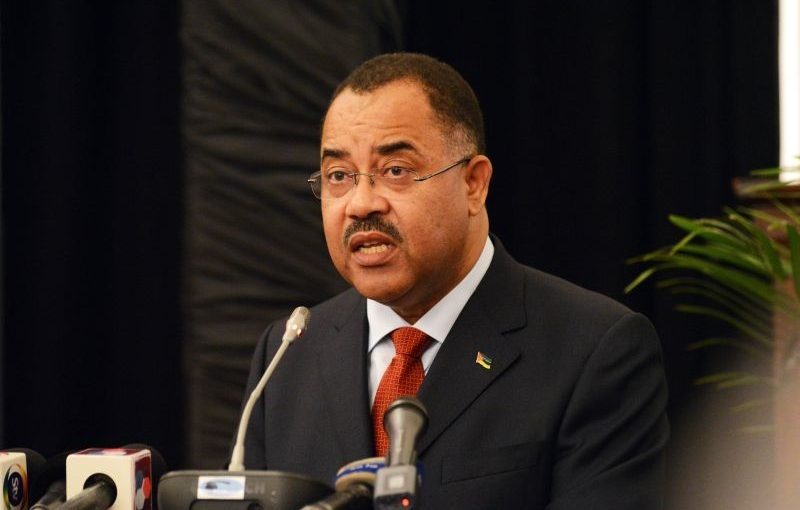 The Mozambican government has launched an application in the Johannesburg High Court for an order compelling Justice Minister Ronald Lamola to extradite former Mozambican finance minister Manuel Chang "without further delay."
Maputo complains that South Africa has violated Chang's right to justice by holding him in prison for nearly 29 months awaiting extradition either back to Mozambique or to the US to face corruption and fraud charges arising from a $2-billion loan scam in Mozambique in 2013 and 2014.
Lamola's "failing and/or neglecting" to make a decision for such a long time "has become grossly unreasonable", the Mozambican government's attorney said in an affidavit to the high court last week.
President Cyril Ramaphosa is seemingly trapped in a dilemma about what to do with Chang. A recommendation from Lamola that Chang should be extradited to the US has been sitting on the president's desk for several months, according to various sources.
Lamola's case is founded on solid legal principles, But hardliners and sympathisers of Mozambique's ruling Frelimo party among Ramaphosa's advisers have been pushing a contrary political argument that he should instead extradite Chang home to Mozambique, to avoid offending Frelimo, a close ANC ally.
Pretoria's hope that Mozambican President Filipe Nyusi will agree to a proposed regional military intervention to defeat a growing Islamist insurgency in northern Mozambique may also be a factor in Ramaphosa's pending decision.
Chang was arrested at OR Tambo International Airport on 29 December 2018, en route from Maputo to Dubai for a holiday. He was apprehended on an arrest warrant sought by the US Department of Justice which had charged him for allegedly receiving bribes in the loan scam scandal.
The US claimed jurisdiction because it said part of the $2-billion loan was passed on by a creditor bank to US investors who then lost money when the deal collapsed.
After Chang's arrest, the US applied to South Africa to extradite him. Only then did Mozambique apply to Pretoria to extradite him to Mozambique instead.
In May 2019, during his last days in office, Lamola's predecessor, Michael Masutha, ordered that Chang be extradited to Mozambique. But soon after replacing Masutha, Lamola took the unusual step of challenging Masutha's decision in court on the grounds that the decision had been made without due consideration of all the relevant facts. In particular, he argued that it was unlikely Chang would face justice in Mozambique as he had not been indicted there, at that time.
In November 2019 the Johannesburg High Court set aside Masutha's decision and sent it back to Lamola for a new decision which should take into consideration all the relevant facts.
In the meantime, Mozambique brought charges against Chang. But the fact that it only did so about five years after his alleged offences — and then only after the US had charged him — raised doubts about the sincerity of its intention to seek justice against him.
A Mozambican NGO which monitors government finances, the Forum de Monitoria do Orçamento (FMO), joined Lamola's 2019 legal action to set aside Masutha's decision to extradite Chang to Mozambique. FMO said it believed that if Chang were returned to Mozambique, Maputo would bury the case, whereas if he were extradited to the US, the courts there would reveal the full complicity of Chang and other Mozambican government officials in the loan scam. So extraditing him to the US would better serve the interests of the Mozambican people.
The US indictment against Chang and others alleges that the $2-billion which the Mozambican government borrowed from the Swiss bank Credit Suisse and the Russian bank VTB Capital, ostensibly to buy a fleet of tuna fishing trawlers and patrol boats, was largely siphoned off in bribes. Boats were delivered to Mozambique, but were allegedly not worth the money paid for them. And they have not been used. The trawlers have reportedly never caught a single fish.
The affidavit of the Mozambique government supporting its application for a high court order to Lamola to extradite Chang does not specify where he should be extradited to.
But in a supporting letter, which the Mozambican Attorney-General, Beatriz Buchili, wrote to Lamola in December 2020, she asserts that Chang should be extradited to Mozambique "as the only country which has jurisdiction over the case". She adds that this opinion was reinforced when a New York court acquitted Jean Boustani, another accused in the case, in December 2019.
Boustani was a salesman for Privinvest, the Lebanese shipping company that sold Mozambique the trawlers, patrol boats and supporting equipment and services. He was accused of paying bribes to Chang and others and thereby defrauding US investors who had bought some of the loans from Credit Suisse. He never denied paying Mozambique officials, but the prosecution failed to prove that he was guilty of defrauding US investors.
Buchili complained in her letter to Lamola that his long delay in extraditing Chang to Mozambique "is having negative implications on various cases in Mozambique". She also said Chang's long detention "violates the principle of right to justice under the African Charter on Human and Peoples' Rights".
She warned Lamola that Chang might cite the long delay in extraditing him as grounds to claim the right to freedom "to the detriment of criminal justice for the crimes he committed in Mozambique".
A lawyer involved in the case said that an imminent release of Chang was unlikely because whichever country Ramaphosa decided to extradite him to, those opposed to that decision would probably challenge it in court. – Daily Maverick