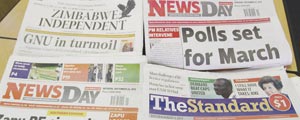 THERE are no limits to the depths this inept and rag tag regime is willing to sink.
On May 3 2021, Zimbabwe will join the rest of the world to commemorate the World Press Freedom Day.
Zimbabwe's media is under siege. The State media has been captured; we have seen political vultures stampeding to interfere with its editorial system.
Forty-one years into independence, Zimbabwe still boasts of one television station which is controlled by the State.
For years, the State media's role has been compromised to such an extent that about 80% of the content is either reporting on the President, the First Lady and Zanu PF.
It is the duty of the public media to report responsibly and not to tow along political party lines.
It's tragic that some media practitioners are willing to prostitute the noble profession for a few crumbs of bread.
It was disheartening that while interviewing President Emmerson Mnangagwa on Independence Day eve, some State media journalists  shocked the world when they called MDC Alliance leader Nelson Chamisa a child standing aloof and who needed a sjambok to whip him into line.
Such statements are reckless. They can breed anarchy and violence.
These journalist are out of order as their statements undermine the leader of the opposition in Zimbabwe.
It is unfortunate that members of the opposition are labelled puppets of the West by those who are bleeding and looting the country dry.
Surprisingly, such a shoddy and boring interview came when people were celebrating the attainment of independence.
Instead of uniting the nation, the State media is actually connived to fan hate speech.
Journalists should interrogate issues affect the well-being of Zimbabweans such corruption, harassment of political activists and social grants to people affected by the COVID-19 pandemic.
Unfortunately the two political agents masquerading as journalists were driven by insatiable appetite to bootlick the President.
Zimbabwe is still a long way to  achieve independence, where people respect each other's political ideologies.
Such kind of journalism is  irresponsible; it flies in the face of a new dispensation.
It is high time the government frees the airwaves and register more media players to pave way for plurality and diversity.
The State must stop monopolising the media. Competition is health; it breeds quality and variety.
Leonard Koni