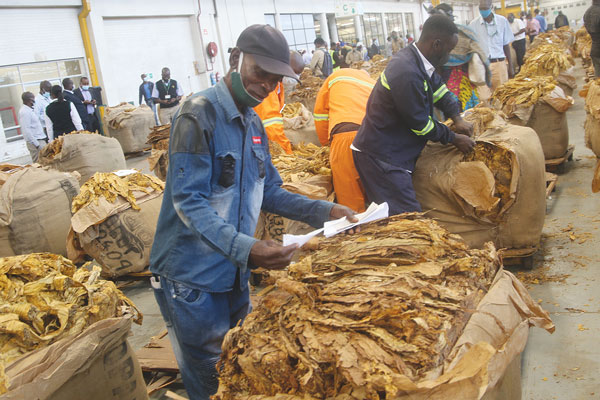 BY FIDELITY MHLANGA
TOBACCO sales have generated US$49,9 million during the first nine days of trade ending Wednesday this week, the Tobacco Industry Marketing Board (TIMB) data showed, indicating a marked rise compared to the same period last year.
Trade from both contracted tobacco and auction floors sales had generated US$24,5 million during the same period last year.
TIMB indicated that farmers delivered 19,97 million kilogrammes during the period, representing an 83% gain from 10,8 million kg that were delivered during the comparable period last year.
This year's crop so far fetched an average price of US$2,50  per kg, which is 8,24% firmer than last season's US$ 2,27 per kg.
However, farmers' unions said they were unhappy with this season's price.
Deliveries of the crop continue to be skewed towards  contracted tobacco, with data indicating that 18,45 million kg worth US$46,2 million had been received by Wednesday under conctract, compared to 1,52 million kg worth US$3,62 million delivered through the auction system.
Concern has been raised that authorities must take drastic action to stem the demise of the country's oldest model of tobacco buying, the auction system, following the rapid shift towards contract tobacco in the past few years.
This year's marketing season kicked off at the beginning of April amid concerns that strict COVID-19 guidelines being followed at the tobacco auction floors could affect the flow of the golden leaf.
Zimbabwe Commercial Farmers Union president Shadreck Makombe  told NewsDay Business that contractors had dropped prices in the second week of the marketing season, leaving farmers in a quandary.
"The first week of this tobacco selling season saw the firming of prices above US$5 per kg, some tobacco was sold at US$6,30 per kg, which was paid by contractors. Prices at direct auction hovered around US$4,99 per kg. Every merchant was out fighting to dominate. In the second week, most contractors dropped prices," he said.
"They are now buying at a discounted price. This is a big blow to most of the farmers who are contracted, and are the majority of tobacco growers. They cannot sell elsewhere.
"This necessitates the need for self-sustainability.
"As farmers' unions, we feel helpless as we see this abuse  and mischievous technique being done by contractors to manipulate farmers. Of course, this does not happen to large-scale standalone commercial farmers who for obvious reasons get fair value for their leaf."
Makombe said after receiving excessive rains  this season, which reduced the weight of the crop, farmers  needed better prices to cushion them against other attendant costs. "Farmers need to invest in farming machinery, implements and equipment, but without meaningful profit it will remain a pipedream," he said.
Growers are this year getting 60% of their money in foreign currency and 40 % will be converted at the prevailing auction exchange rate on the day of sale and paid in local currency.
TIMB has licensed three auction floors, 28 A Class buyers and 39 contract buyers.
The board has also approved decentralised contract sales to be conducted in Karoi, Mvurwi, Bindura, Marondera and Rusape.
This year's output is expected to reach 200 million kilogrammes, thanks to fair rainfall.
Total output is estimated at 185 million kg.
 Follow Fidelity on Twitter @FidelityMhlanga